It's already been four years since I moved from Tokyo to Tsu City, Mie Prefecture.
Currently, when my middle and high school children were young in Tokyo, there were many places in the suburbs of Tokyo where you could play until you were exhausted from morning to night, and where you could play all day on vast grounds, and it was not within easy reach.
The merit of moving from the city center to the area is that there are many vast places where children can play freely.
15 minutes drive from home"Nakasei Green Park"
When I visited for the first time four years ago, the grounds were vast and there were plenty of playground equipment.
However, the most troublesome thing when using it was that there was only one drink vending machine in the vast parking lot of the park, and there were no shops where you could easily purchase food and drink.
In addition, although it is nice to have a spacious space where you can spread out a large leisure sheet under the blue sky and lie down to your heart's content, there is no shade and it was a harsh place to spend a long time on a sunny day. .
As a result, when I gradually lost the opportunity to use it,It was announced that this park will undergo a major renovation in the spring of 2023!
"Until now, we needed lunch boxes, drinks, sun protection goods, and quite a lot of heavy equipment, but now we can go to the park almost empty-handed!?"
As a Tsu citizen, this is a spot that you definitely want to check out!
In this article, we will introduce Nakase Green Park, which has just been renewed, together with 13-year-old junior high school students!

west side of a river
So, I went there in early April, right after it opened! If you are planning to visit, please use this as a reference!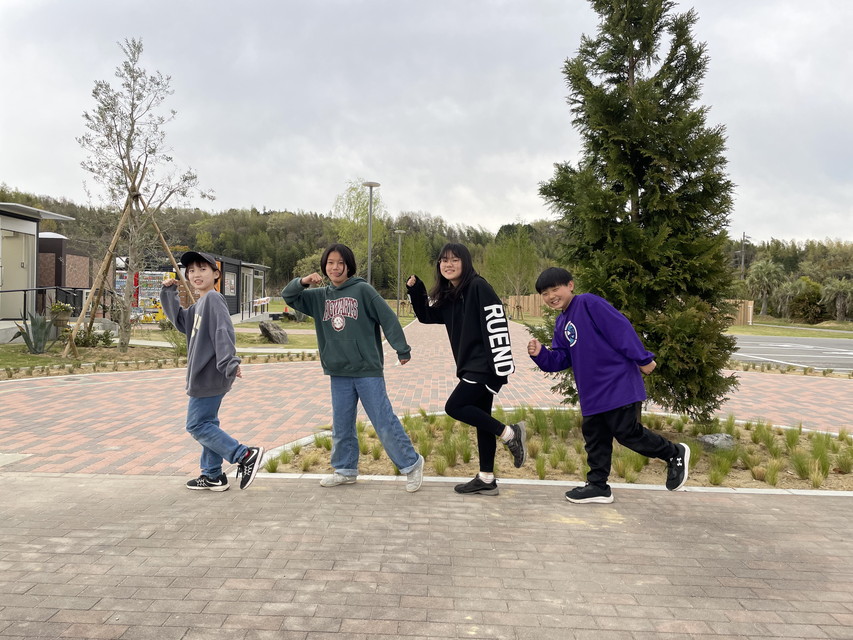 Introducing new spots in Nakase Green Park
Now, let's report on the state of the park!
entrance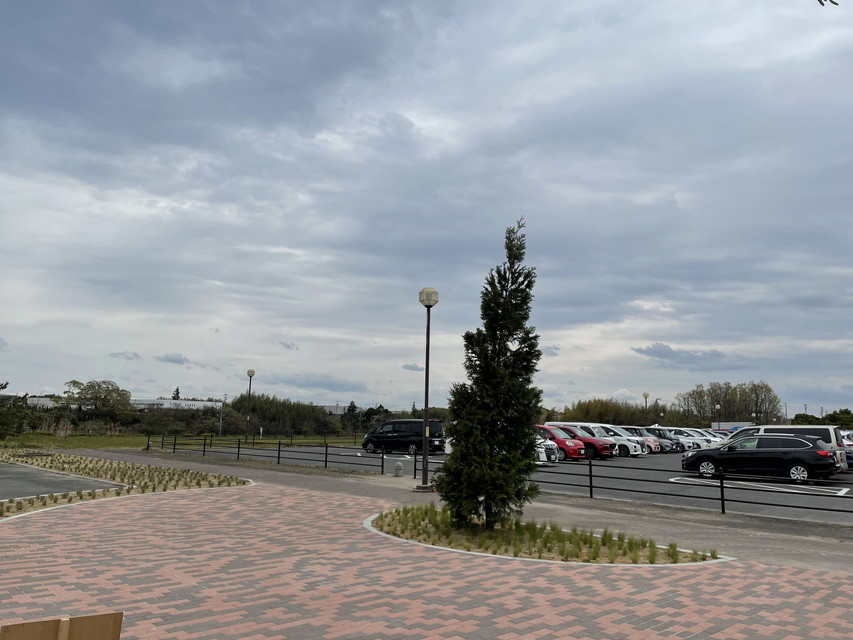 Adorable entrance with brick pavement near the first parking lot.
This entrance has few steps, so it is easy to move around with an outdoor wagon.
In particular, there is a barbecue area in front of you, so it is a friendly design for barbecue users who have a lot of luggage.
barbecue zone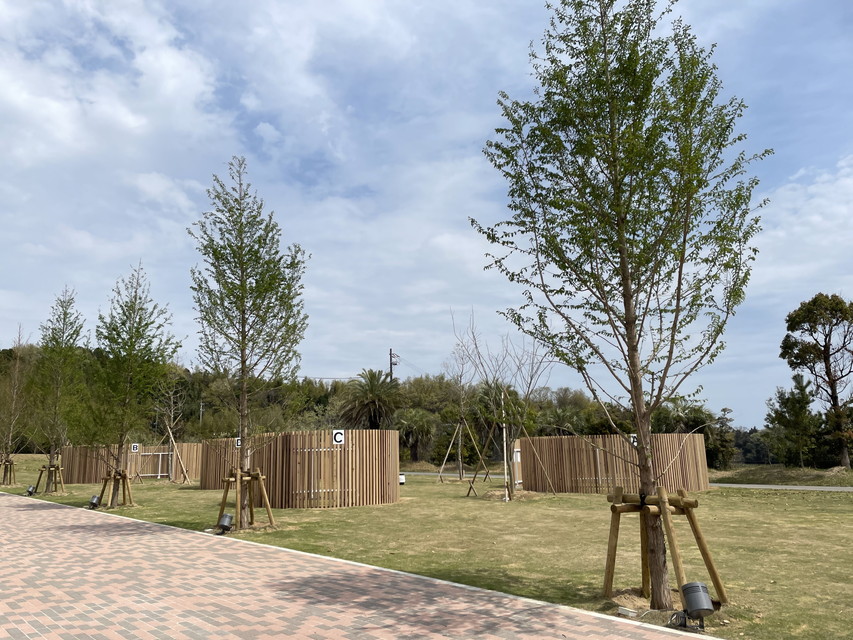 The barbecue area needs to be reserved in advance, and there is a charge.
At first glance, you may not know what the fence is, but by covering it with this high fence, it is possible to prevent unwanted gazes from inside the park and other users.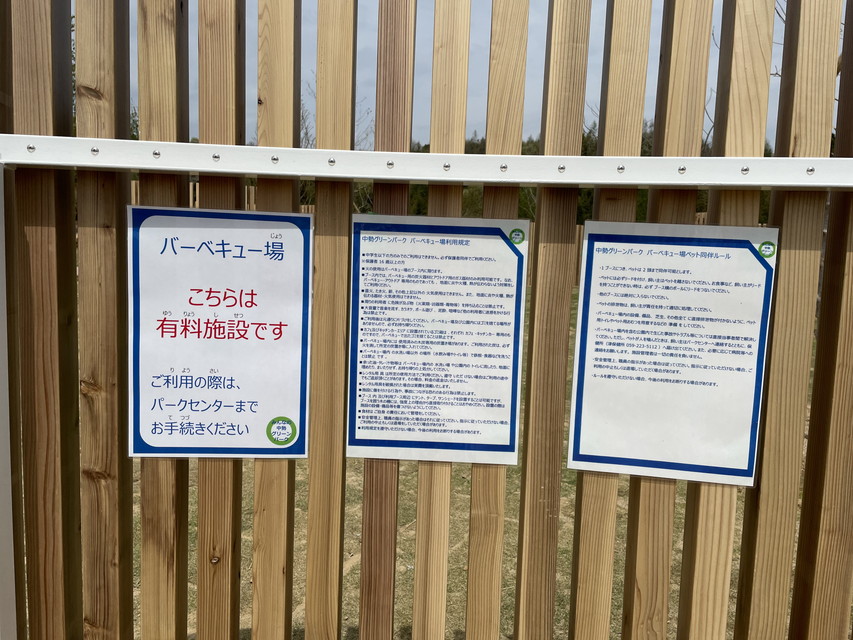 Reservations can be made at the management office (Park Center) right in front of the Green Park entrance!
When using it, please follow the regulations posted inside the fence.
Also, up to 2 pets are allowed. Of course, there are rules for accompanying people, butJust imagining a barbecue with your favorite pet sounds funIt is.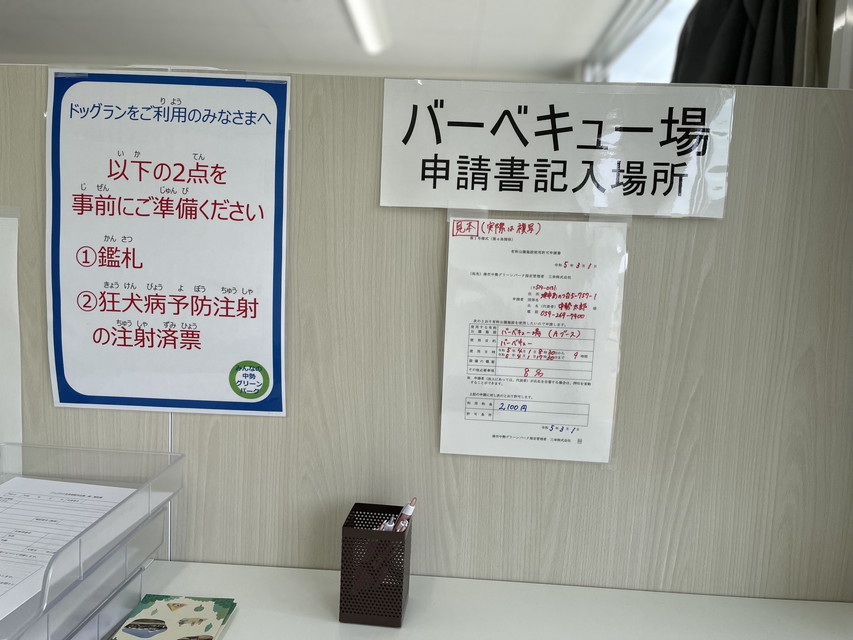 At the park center, you can apply for the use of the barbecue area and apply for sled rental.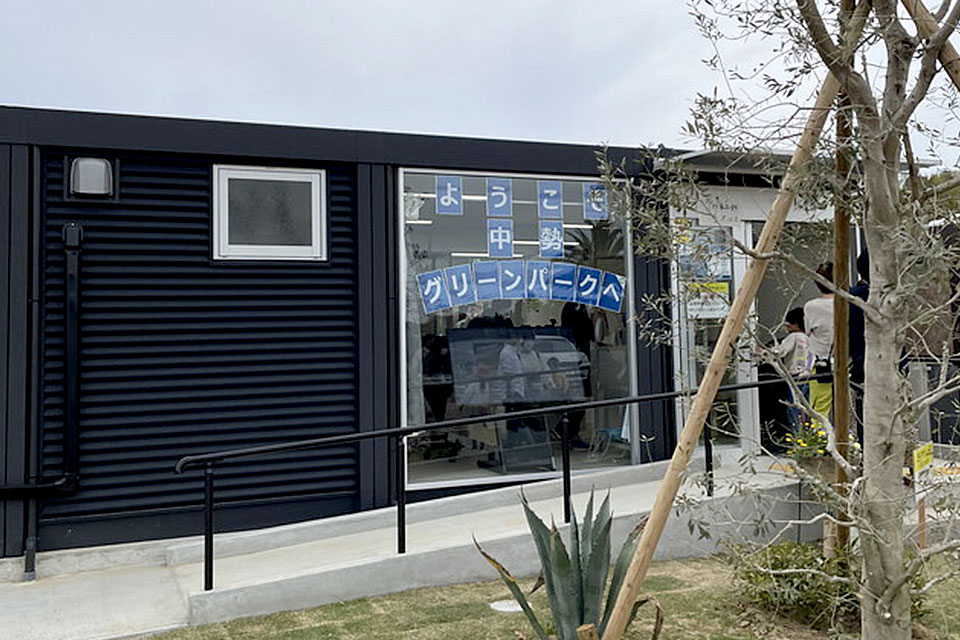 I don't have any equipment, but I want to have a barbecue!
It's okay to be like that. Barbecue equipment can be rented. If you prepare only the ingredients, you can easily enjoy barbecue.
Barbecue equipment can be rented for 1,500 yen/time.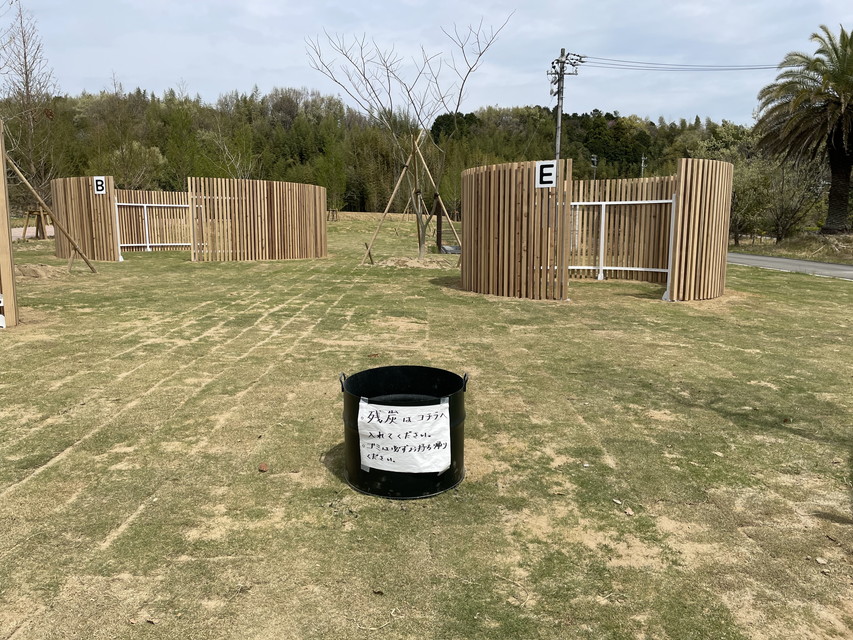 I think "this is the recommended point!"
Without this, the casualness of the barbecue will change.
important point
*As of April 2023, there is no water station installed, but it is planned to be installed in the future.
Dirty items must be taken home.
Please note that the usage fee varies depending on the size and time of the booth!
| | | | |
| --- | --- | --- | --- |
| Division | city users | Out-of-town user | Utilization time |
| middle booth | 2,100 yen/site | 3,000 yen/place | 8:30-17:30 |
| middle booth | 1,500 yen/place | 1,500 yen/place | 8:30-13:00 |
| middle booth | 1,500 yen/place | 1,500 yen/place | 13:00-17:30 |
| small booth | 1,400 yen/site | 2,000 yen/location | 8:30-17:30 |
| small booth | 1,000 yen/place | 1,000 yen/place | 8:30-13:00 |
| small booth | 1,000 yen/place | 1,000 yen/place | 13:00-17:30 |
| night extension fee | 500 yen/location | 500 yen/location | Extendable from 17:30 to 19:00 |
awning space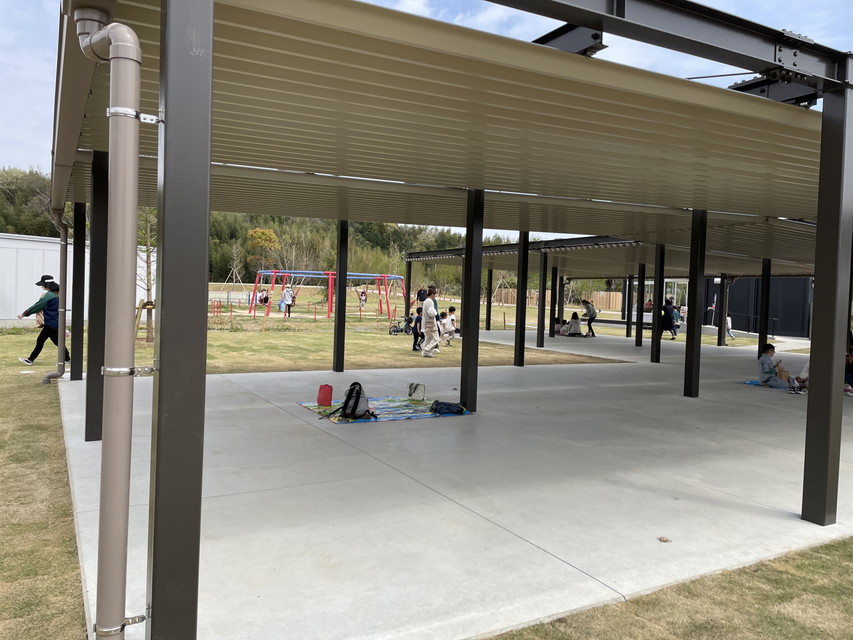 We have a shaded space that will help us in the future. Let alone the sunshine, I can withstand the rain!
This time I enjoyed using this place as a base.
A playground area, vending machines, restaurants and toilets are also nearby, making it a perfect space for a break.
It's near the park center, so it's also a little-known spot where you can see a lot of dogs using the dog run.
This is concrete instead of lawn, so cushioned leisure seats are recommended.
cafe restaurant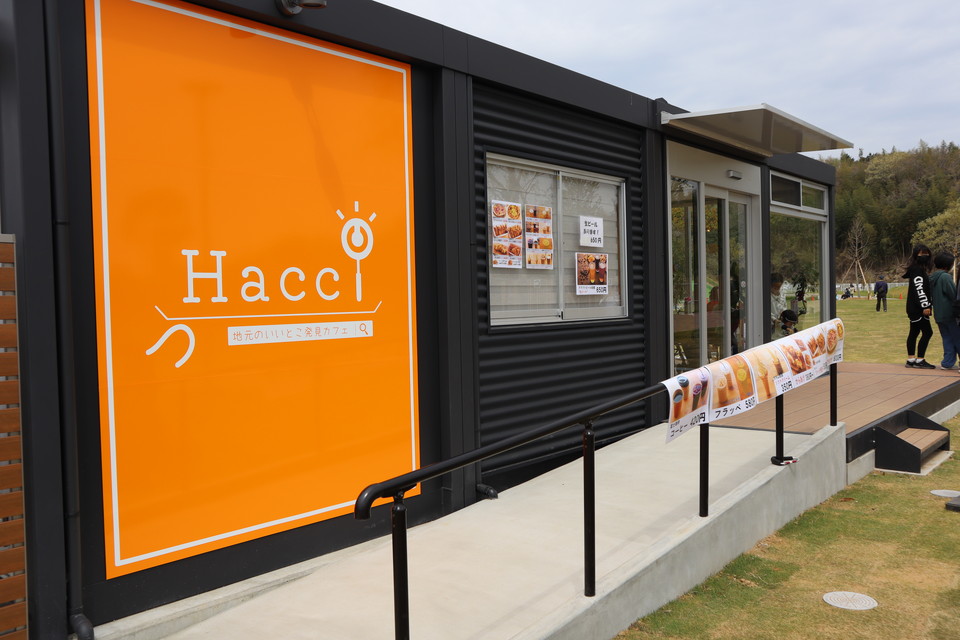 Along with this renewal, the only tenant in Nakase Green Park, which has become a hot topic in the area,one hatch"Mr. is.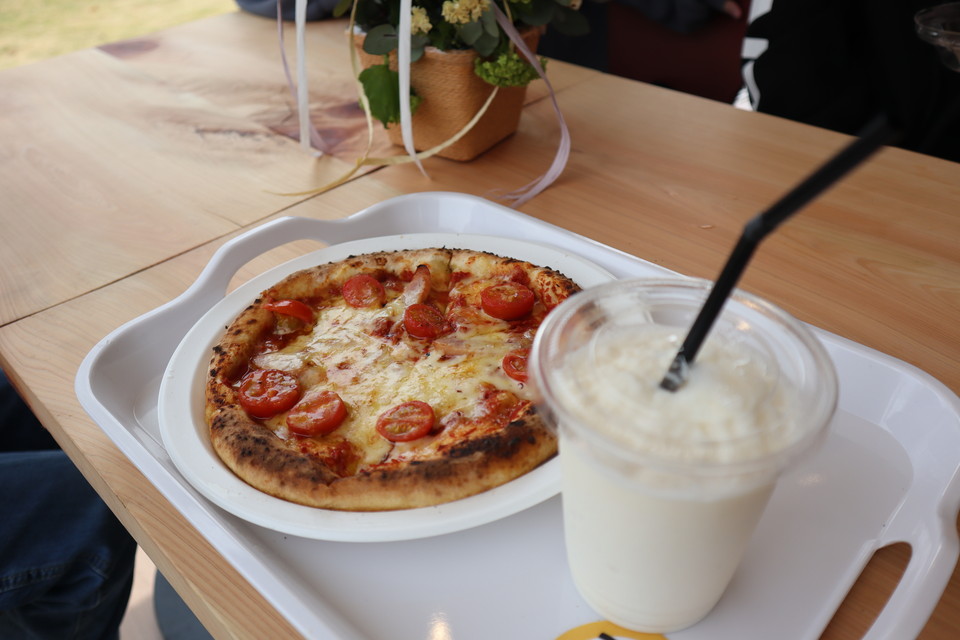 The handmade pizza dough is sticky, and it's just superb!
In addition, the tomatoes used as ingredients are locally grown, and the acidity is modest, so even I, who doesn't like tomatoes, was able to enjoy it.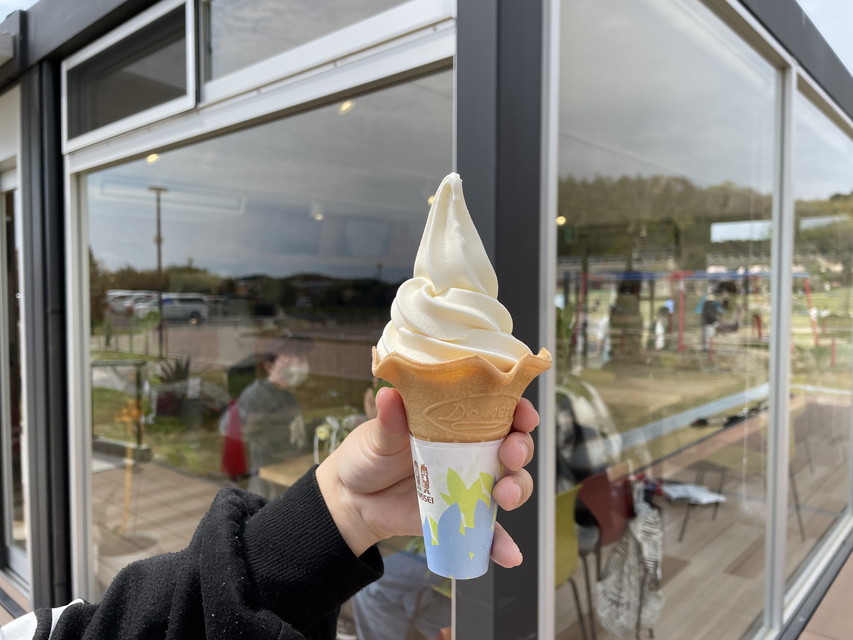 In addition, you can eat fried chicken, gyoza, and soft serve ice cream made with special milk.
This soft serve ice cream is also rich in milk, and it has an irresistible taste for milk lovers!
The cool texture permeated my tired body, and it was a recommended soft serve not only in spring and summer, but also in winter!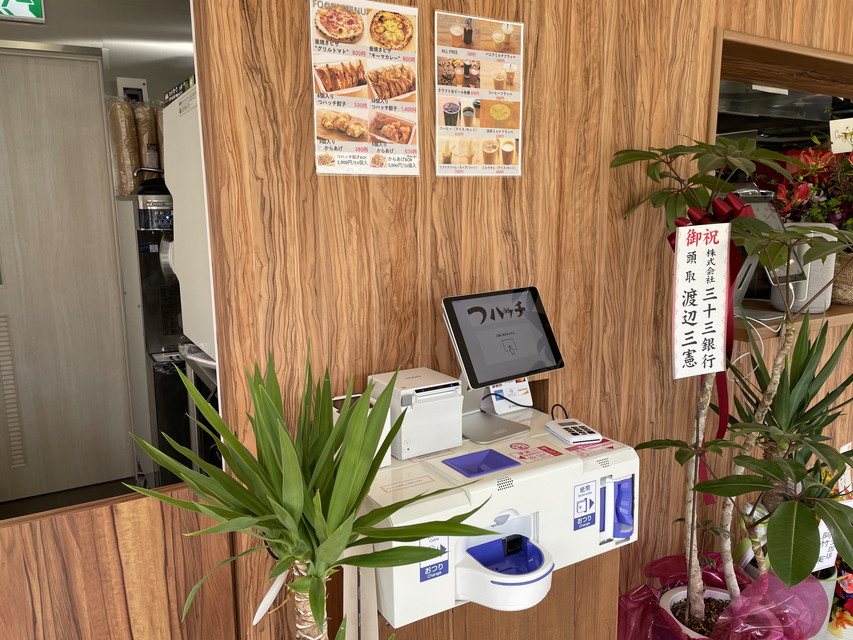 Menu orders are placed on the touch panel installed immediately after entering.
For me, who is not good at face-to-face, it was comfortable to be able to order casually.
You can eat inside as well as outside.
Also,There is also a kitchen car opening mainly on Saturdays and SundaysSo, when the weather is nice, we recommend eating outside where you can feel the pleasant light and warmth of the sun.
It's fun to go to the store, but I really wanted a way to do it in advance, so I looked for it!
mogmapMr. is. The name of Nakasei Green Park is included in this store opening information!
It's not all kitchen car information, but please refer to it.
Grass sled slope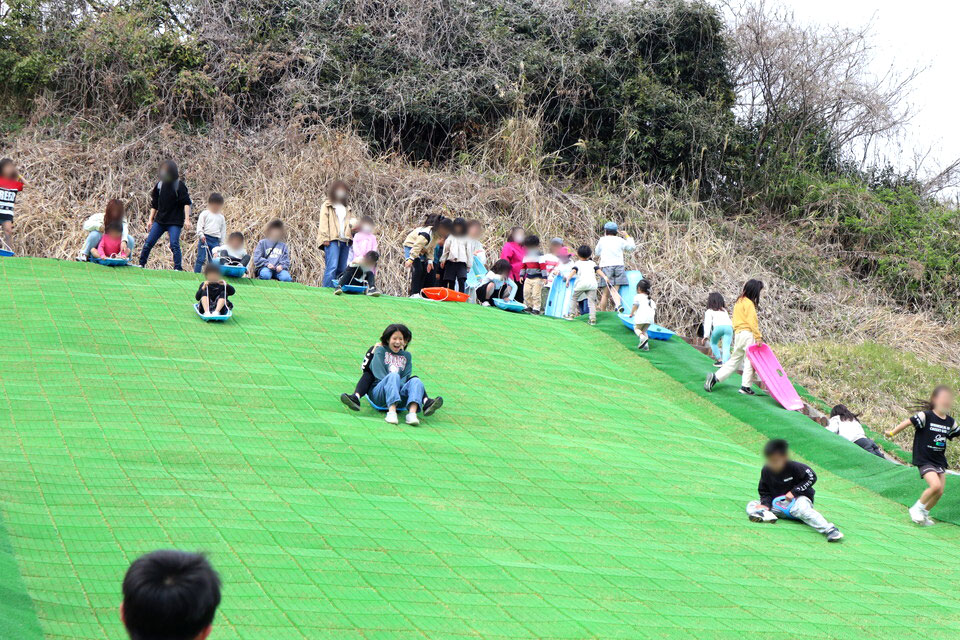 Next is the long-awaited hot spot, the turf sledding slope.
When using it, you need to pay 100 yen at the park center.
You may fall off the sled, but the material is soft so you don't have to worry about getting hurt!
You can also rent sleds at the park center, so even if your child suddenly says "I want to do it!"
However, it took about 30 minutes to rent a sled this time, only in a popular area.
There is no time limit for renting a sled, so you may have to wait 30 minutes or more.
for that reason,If there are many users, we ask that you return them within 30 minutes to 1 hour.Yes.
It seems that there is less waiting time in the morning, so I want to do it! It is good to borrow early if you think.
Also, you can bring your own sled, so if you are planning to use the slopes from the beginning, although the cost will be the same, it is better to bring your sled in advance and you can play indefinitely without waiting.
| | | | |
| --- | --- | --- | --- |
| Division | city users | Out-of-town user | Utilization time |
| 1 day ticket | 100 yen/person | 100 yen/person | 8:30-17:30 |
| Coupon ticket (for 12 times) | 1,000 yen/person | 1,000 yen/person | 8:30-17:30 |
dog run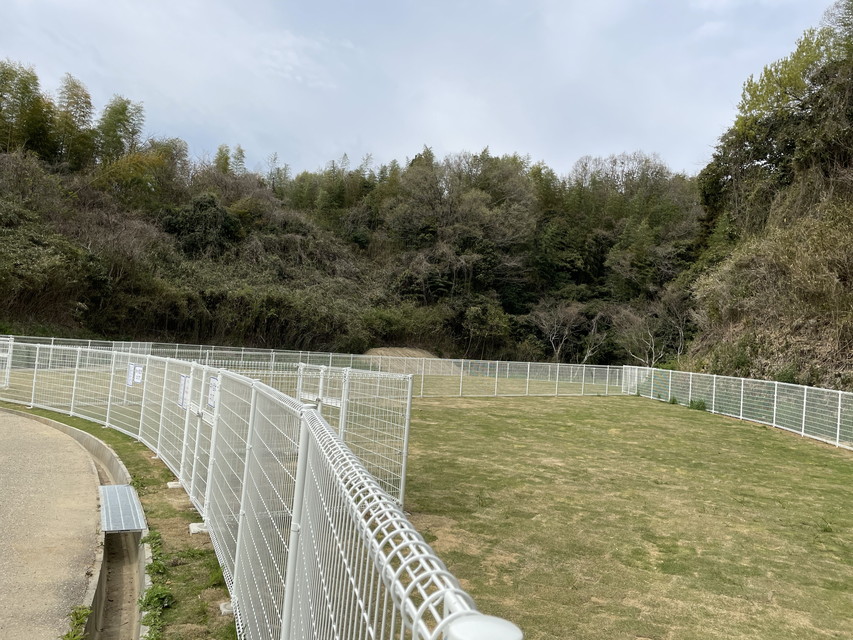 There is a dog run at the edge of Nakasei Green Park!
This isProcedures are required at the park center in the paid area.
You can let your dog run freely on the spacious lawn.
There are separate areas for large dogs and small and medium dogs.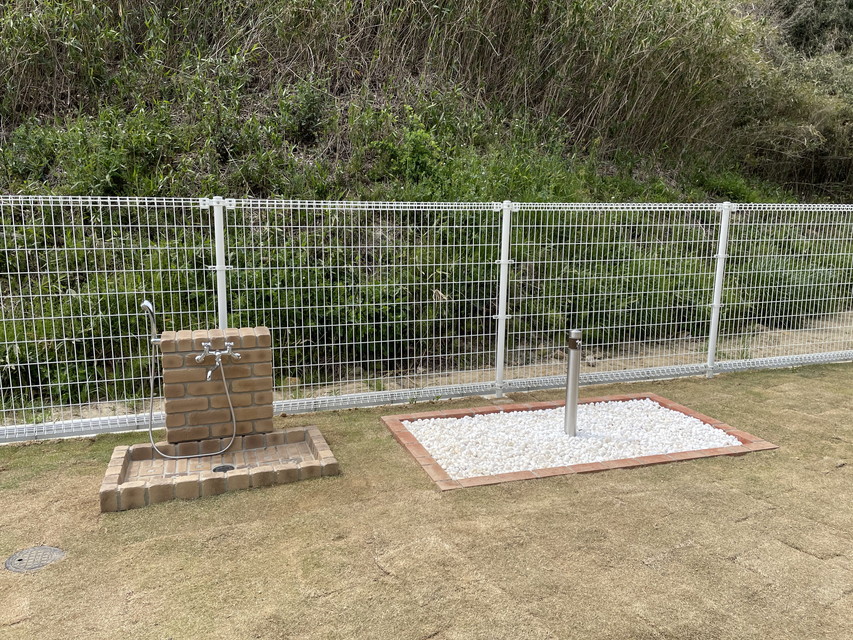 A dock toilet and dock shower are installed in the large dog area.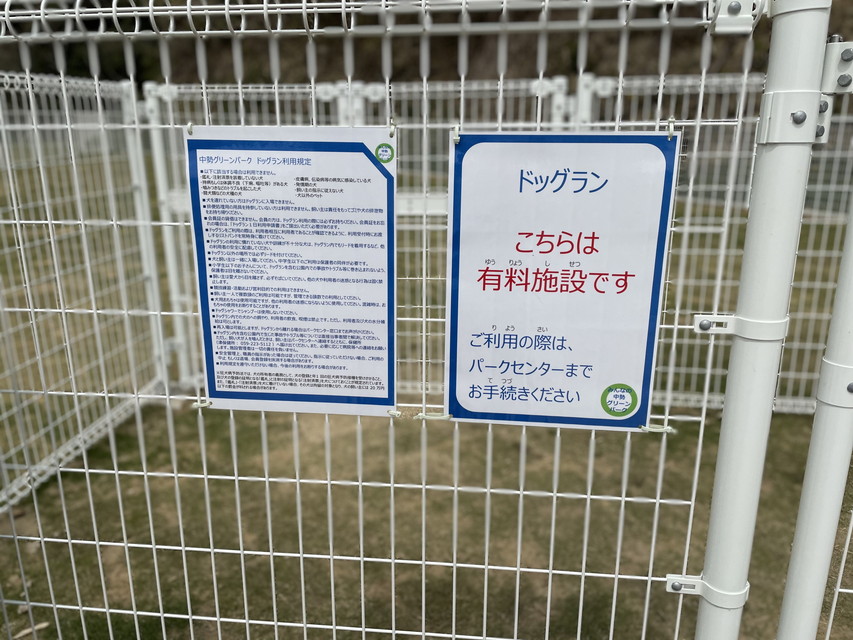 When using the dog run, you need a "license and rabies vaccination certificate". Also, be sure to follow the usage regulations posted on the fence.
| | | | |
| --- | --- | --- | --- |
| Division | city users | Out-of-town user | Utilization time |
| large dog | 600 yen/head | 800 yen/head | 8:30-17:30 |
| Large dog (1 month ticket on weekdays) | 3,000 yen/head | 4,000 yen/head | 8:30-17:30 |
| small and medium dogs | 500 yen/head | 650 yen/head | 8:30-17:30 |
| Medium and small dogs (1 month ticket on weekdays) | 2,500 yen/head | 3,250 yen/head | 8:30-17:30 |
multipurpose square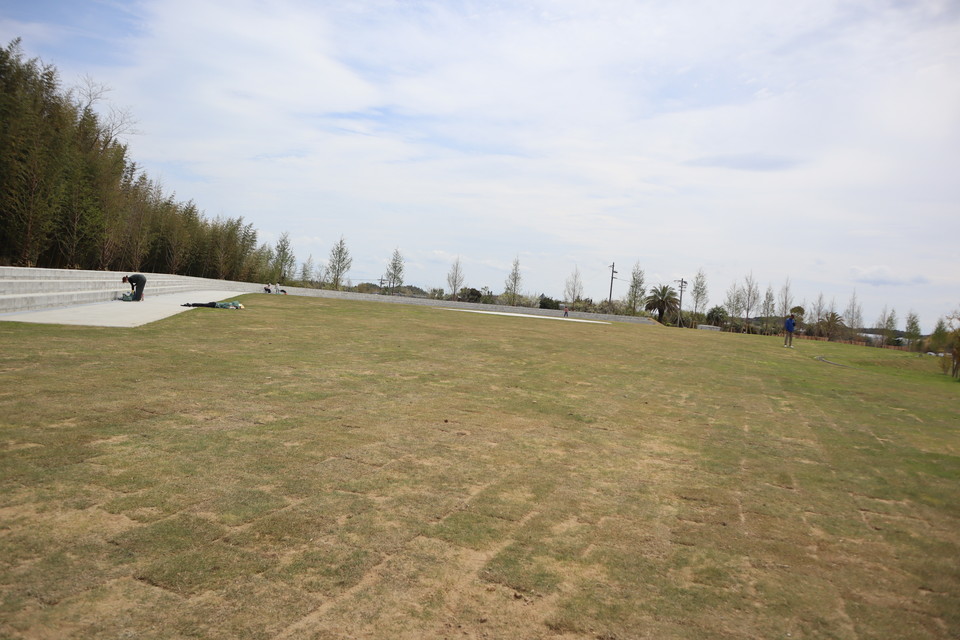 The multi-purpose plaza has two areas: an area with a spacious lawn and an event space with spectator seats surrounding the circular space.
This time I tried playing in the event space.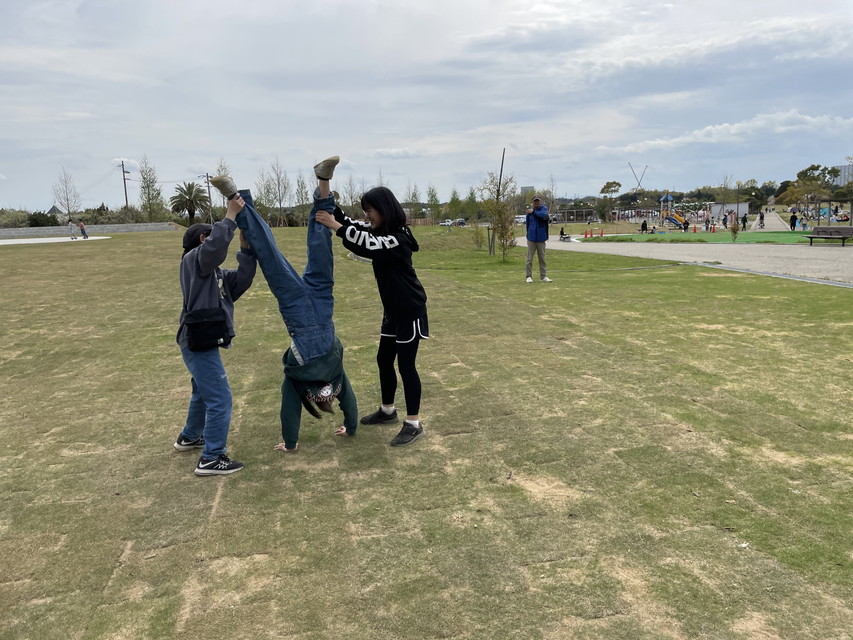 When I asked the children what they wanted to do, they showed me a handstand.
If you thought you were going to play tag or roll on the grass, you would end up standing upside down.
Maybe it was because the open space made her feel free, and maybe she showed us a special skill that usually doesn't have a chance to show off.
There were other adults doing gymnastics, so it's the best space to move your body without worrying about your surroundings.
Also,On days when there weren't many people, we could play ball and badminton!
Since the event space has concrete ground, I saw children playing with skateboards and kickboards.
In order to enjoy Nakasei Green Park even more, it might be a good idea to bring some playthings in advance.
Reborn Nakasei Green Park, three attractive points
Here, I would like to introduce about 3 charms of Nakasei Green Park that I realized after actually visiting after the renewal!
Very popular with children! Grass sled slope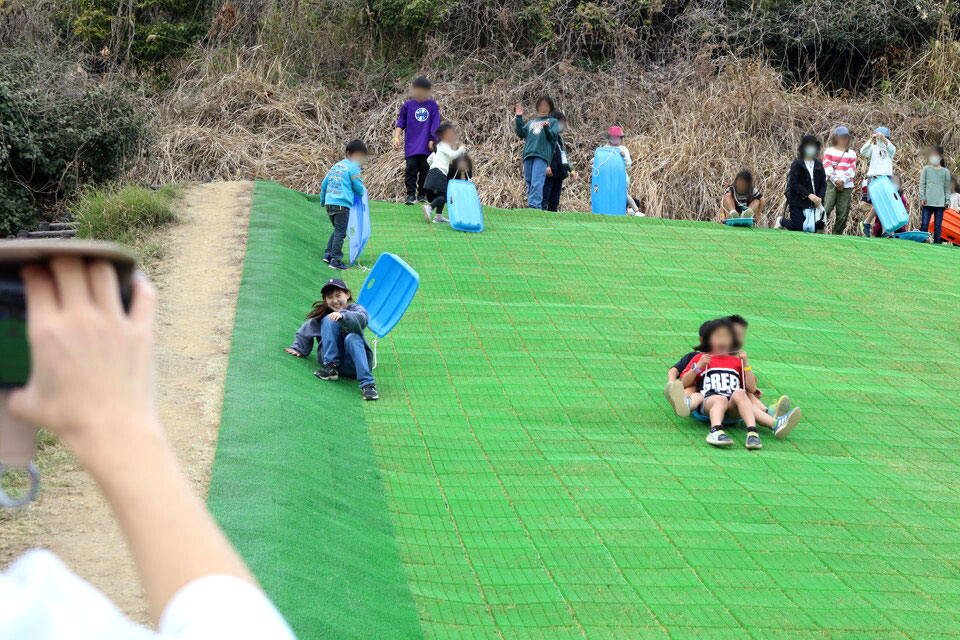 What I paid particular attention to in this renewal was the grass sled!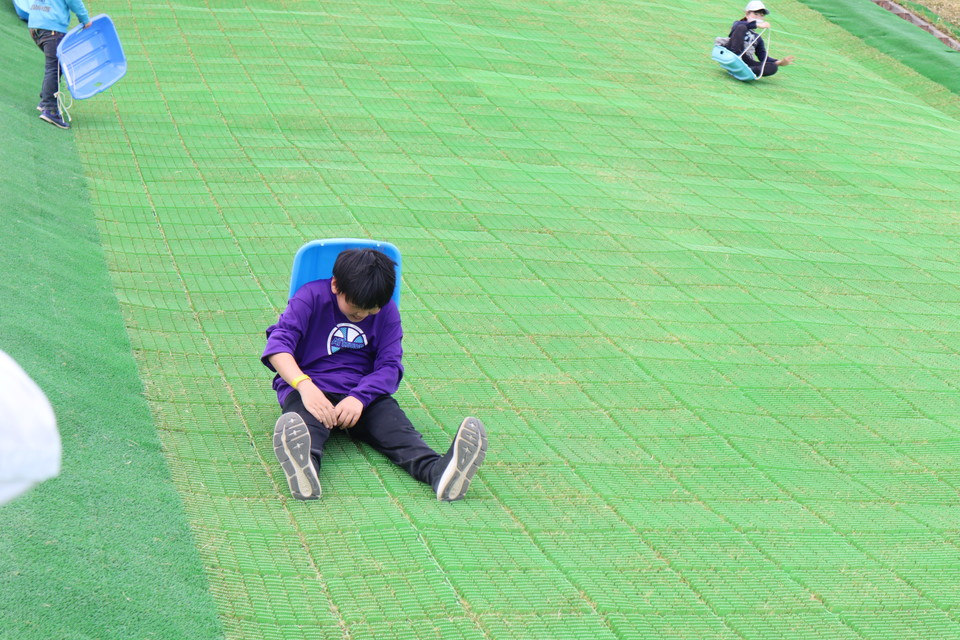 At first glance, turf sledding looks easy, but it seems difficult to slide straight to the end.
Even children who were not interested in grass sledding at first, once they tried it, became completely absorbed in it.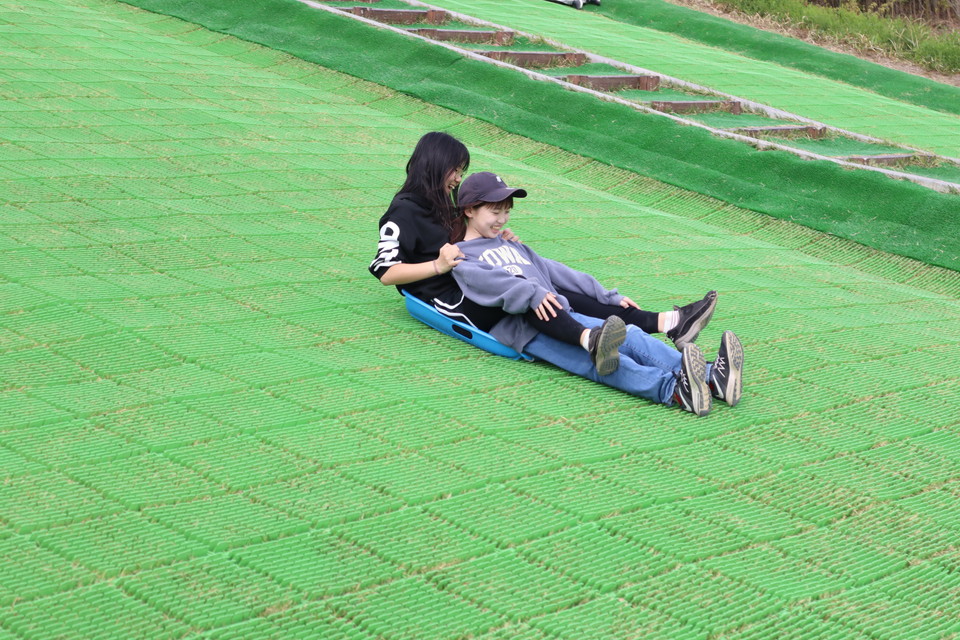 Children try and try again and again. He seemed to have realized that skating with two people would be better, so he enjoyed skating with two people all the way through the second half.
I was pulled by the children and challenged myself.
When viewed from below, the slope is gentle, but when viewed from above, it looks like a downhill roller coaster.
When you sit down, you feel extra high, so when you slide, you shout...
The speed I experienced was faster than it looked, and I was desperately grabbing the sled so that it wouldn't be shaken off.
However, it's a pleasure to skate to the end, and I think I understand why it's addictive.
Due to its popularity, the sleds provided by Nakasei Green Park were in short supply, so the four of us took turns playing with one sled, but the children were able to come up with their own ideas and have a blast.
Focus on the evolution of vending machines
The vending machine that used to be installed in the parking lot has evolved with this renewal.
Surprisingly, with this renewal, there are 5 units!
One of them was decorated with Pokemon, so both the children and I were excited.
Not only the drinks are substantial, but also the food.
With this, you can fill your stomach with this even if you forget your snack.
Another thing that caught our attention was the payment method for vending machines.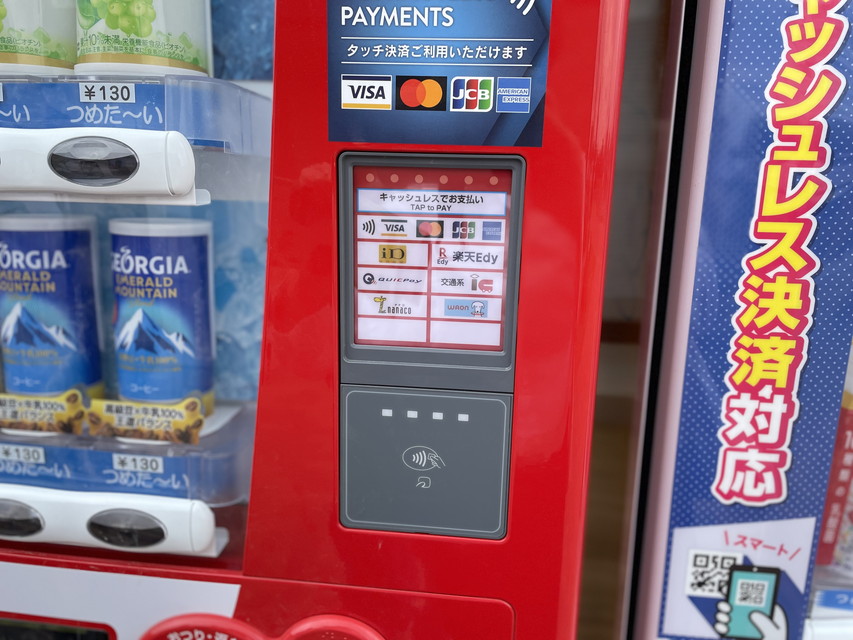 Oh my God! Plenty of payment methods other than cash.With this vending machine, you can pay by touch with a credit card!
There were other things that IC cards can be used and those that can use code payment.
It's nice to be able to use a vending machine with one hand.
After all I want to play, playground equipment square
So far, we have introduced the renewed Nakase Green Park, but the first thing the children were playing with was the old playground equipment.
Among them, the Tarzan rope was particularly popular.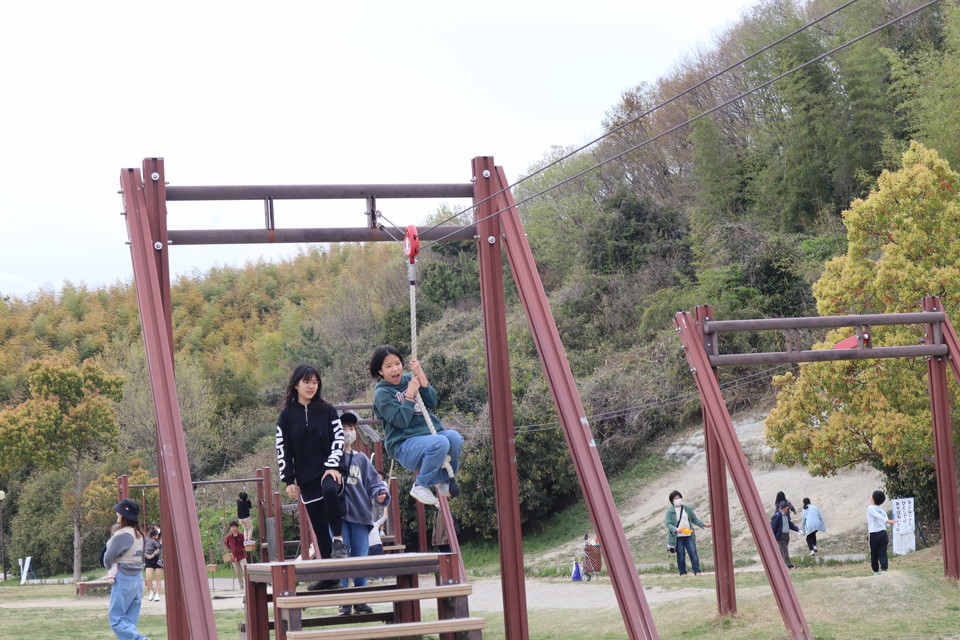 Two Tarzan ropes are installed, but both of them are lined with many children, and the four people who brought them play and play side by side and play and line up repeatedly.
To me, they all seem to ride in the same way, but they all seem to have their own preferences.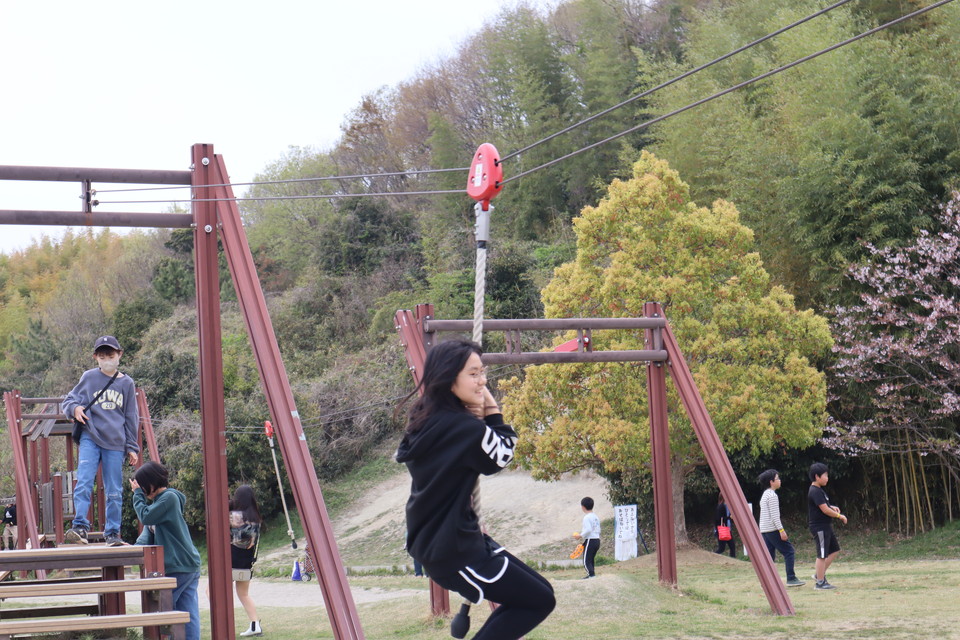 I was invited to "play" many times, but I was embarrassed and refused.
Children seem to be having fun, above all.
summary
How was it?
I visited on a weekday, but the children were on spring break, so the park was bustling with people!
As a user who knew the site before the renewal, I was surprised at the greatly improved convenience compared to before.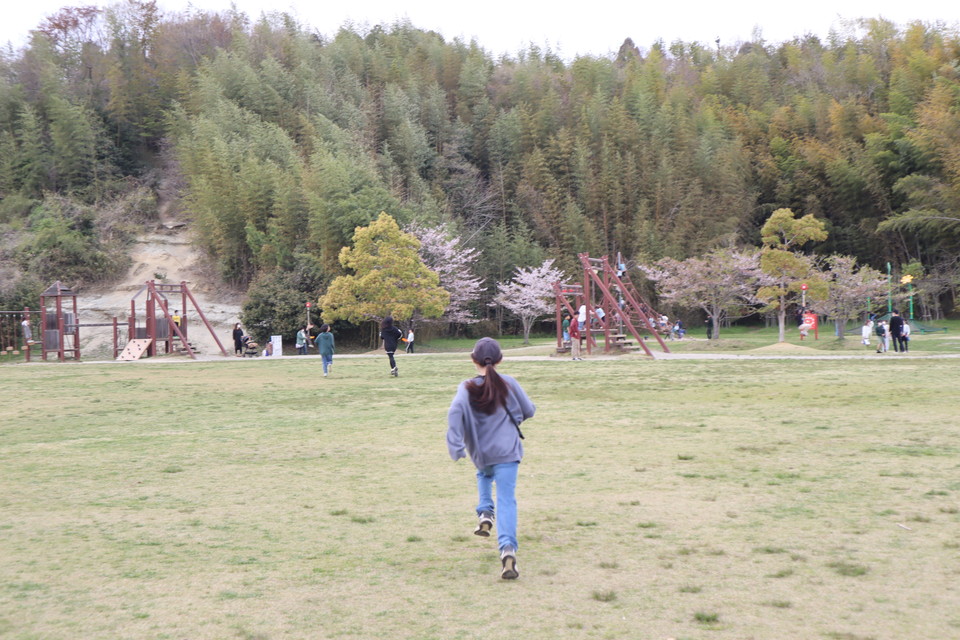 Even the children who played until they were exhausted all day seemed to be very satisfied.
Golden Week and other long holidays are just around the corner, so please visit Nakasei Green Park!