you are all talking now"Shima Spain Village"Do you know the
Shima Spain Villageis a complex resort that reproduces the streets of Spain full of exoticism and has a theme park "Parque Espana" that can be enjoyed by children and adults alike, Hotel Shima Spain Village and a natural hot spring "Himawari no Yu"!
Spain Village covers an area of 1,130,000 square meters, which is equivalent to about 24 Tokyo Domes!
It's a very famous Spanish village for locals, but it's actually becoming a hot topic right now for some reason.
The reason is that he belongs to NijisanjiVTuber Zhou Sango will be appointed as a virtual ambassador and a collaboration event will be held.from!
Her broadcast inspired us to go to Spain Village, and the San-El members who were attracted to it participated in a collaboration event.
If you want to go to Spain Village or are curious about the collaboration event, please take a look to the end.
By the way, the content of this article is the state of the event on February 11, and the information announced by March 13, the date of publication of the article, is added.
For those who want to read only the report part of the collaboration eventthis way (direction close to the speaker or towards the speaker)!
What kind of place is Shima Spain Village? Easy introduction!
First of all, I will introduce the theme park "Parque Espana" in Shima Spain Village, where the collaboration event is being held this time!
Shima Spain Village "Parque Espana" is a theme park full of Spanish emotions.
"Parque" means park, and "Espana" means Spain.
Parque Espana has a variety of attractions such as the "Don Quixote Boken Journey" where you can experience a fantasy world on a flying galleon ship, and the large roller coaster "Pyrenees".A theme park that can be enjoyed by people of all ages, from children to adults.
Of course, there are plenty of contents other than attractions!
For example, there are seven charming characters such as the knight Don Quixote and the princess Dulcinea.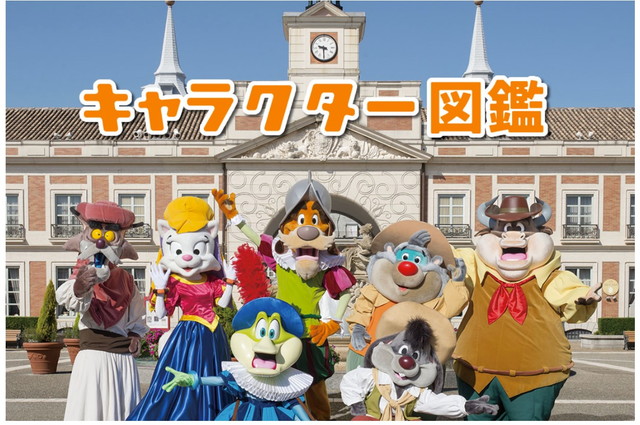 Quoted from:Shima Spain Village official website
held in the gardenparades and character musicals, and you can meet them at Character Greetings.
It is also attractive that there are many shooting spots such as "Santa Cruz Street" with white walls decorated with many flowers, large gates and squares.
The park mapthis way (direction close to the speaker or towards the speaker)! Please use it as a reference when you visit.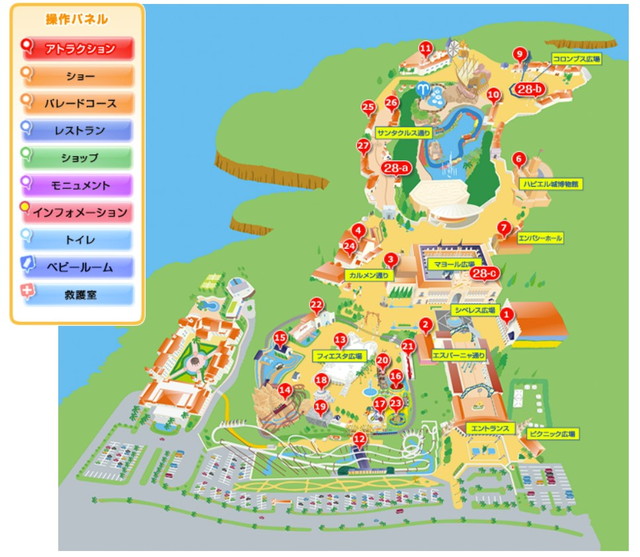 Now that I have introduced Parque Espana, I will explain how this collaboration event came about!
How did you come to collaborate with Zhou Sango?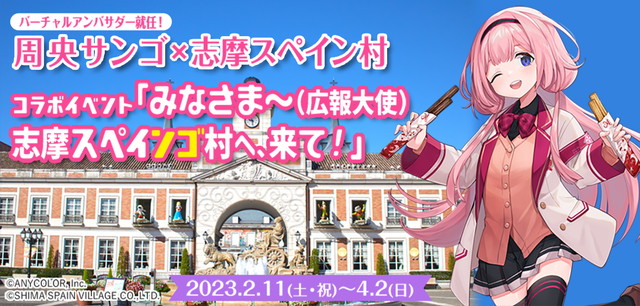 Why was this collaboration event realized in the first place? Some of you may be wondering, so let me briefly introduce the background.
This time we decided to collaborateSango Zhouo (commonly known as Ngo-chan)is a virtual river who is enrolled in Sereine Jogakuin's theater club.
It all started in December 2021 with regular delivery of Ngo-chan."Otsukaresango 50th"atAbout 50 minutes passionately talking about the episode when visiting the Spanish villageIt is.
Half a year later, in May 2022,"Otsukaresango 62nd"Then,He continued to talk about his impressions and charms of the Spanish village he visited again for about 90 minutes.
And the two distributions, especially the clipped video of the latter, have become a hot topic, such as being featured on TV and internet news.
Many people may know that "Shima Spain Village" and "Zhouo Sango" suddenly became trending on Twitter.
After that, in August 2022, a project video that actually visited the Spanish village was released, and finally on December 27, a collaboration was announced.
Click here for the contents of the collaboration event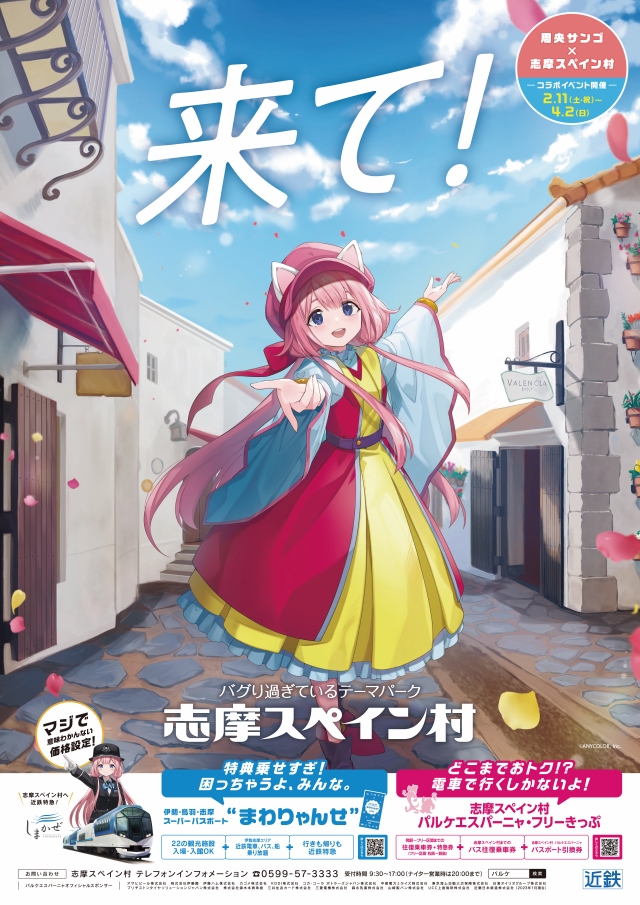 ©ANY COLLL, Inc.
There are 5 main contents of the collaboration event that will be held in Spain Village this time!
5 collaboration events
Stamp rally where you can get original stickers
A special screening of "Don Quixote, which looks like Suo Sango and sees the sky," with Ngo-chan's secondary voice added!
Limited collaboration menu
Limited collaboration goods
Introducing a print sticker machine that allows you to take pictures with Ngo-chan!
This is a fascinating collaboration event between Spanish Village, an amusement facility in the real world, and Mr. Sango, who is active in the virtual world!
I will introduce the state of the event immediately.
Impressions of Shima Spain Village x Zhouo Coral Collaboration Event

Saito
From here on, I will talk about what I have actually been to Spain Village.
On the morning of February 11th, the first day of the collaboration event, we will drive from somewhere in Mie Prefecture to Spain Village.
I also wanted a collaboration sticker that I could get at Ugata station, but I gave up on that day because it would take more than twice as long to get there by train.
When I got close to Spain Village, Ngo-chan called it Victory Confirmed BGM."Surely Parque España"Play and drive your car while raising your mood.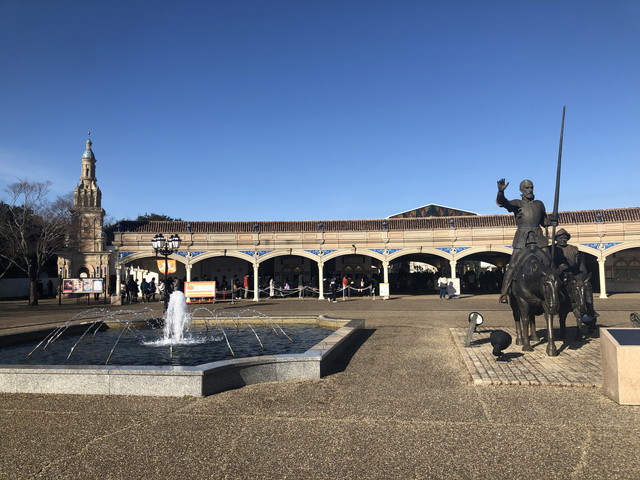 This is the fountain in front of the entrance and the bronze statue of Don Quixote. There are many people lined up at the ticket office and the entrance gate in the back left of the photo!
It was 9:09 when I took the photo, but I was surprised to see quite a few people already lined up.
The customer base varied from one person to a group of several people to families with children, and there were many people who could be identified as Spain Village fans wearing Spain Village character goods and Ngomen fans of Ngo-chan.
At 9:30 when the park opened, I was very excited when Daru-chan announced and the shutter started to go up with the sound of "Ketto Parque España".
A few minutes to wait from there,When I was able to enter without incident, I was surprised to see that long lines had already formed at the shops selling collaboration goods.
It seemed like it would take some time, so I decided to leave the goods for later and visit other places first.
Zhouo Coral Exciting Stamp Rally in Shima Spain Village
In this stamp rally, you can get an original sticker by collecting 4 stamps around places related to Ngo-chan in the park.
The stamp rally booklet is 1500 yen with a churros exchange ticket and is sold at the following two places.
Stamp rally booklet sales place
theme park entrance
Hotel Shima Spain Village front desk
In addition to the previously announced four stamps in the park, I got information that the hotel also has a stamp, so I decided to purchase it at the hotel.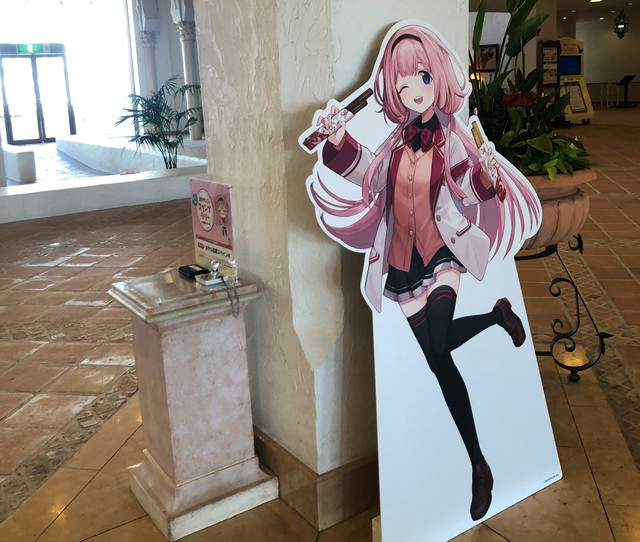 This is the stamp point at the hotel. After stamping the commemorative MURA stamp, move to the entrance of the park.
Four stamp points in the park
At the stamp point immediately after entering the park entrance,A panel of Daru-chango wearing Daru-chan's costumegreeted me.
At the stamp point in front of "Pizza La Loja" on España Street, a little further from thereTasty churros sungo with churrosthe panel.
At the stamp point of Cambron Theater, which went through España street and went to the backFlamengoI have a panel.
And the fourth stamp point andGrape-chango wearing a grape costumeThere is a panel of "Don Quixote Adventure Journey" in the innermost part of the park.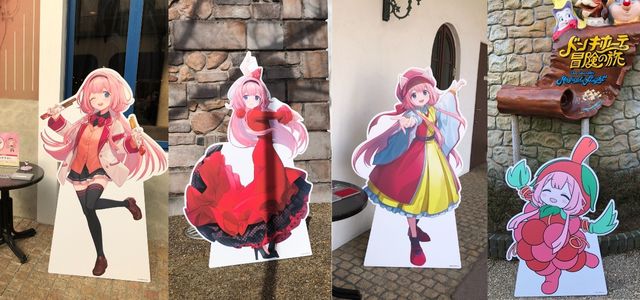 It was a lot of fun stamping the stamps because they were places that I was familiar with, and the pattern of each stamp was what Ngo-chan said when introducing the place.
And if you collect 4 stamps, you can get a sticker by pressing the last stamp in the general information.
At that time, the staff"Good job!"The fun increased with the lines.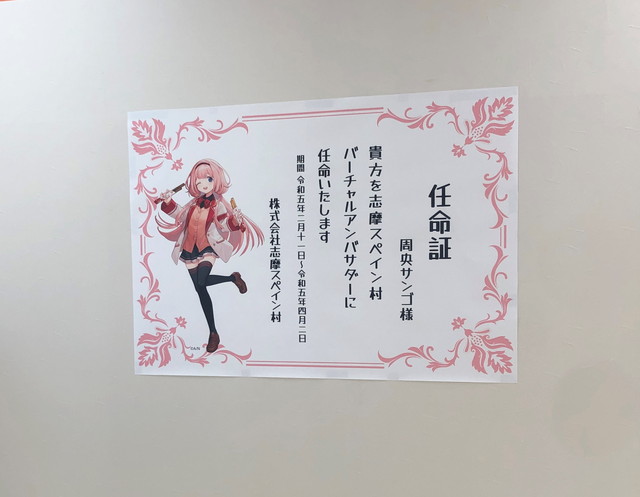 By the way, there is also a huge Ngo-chan virtual ambassador appointment certificate in the general information, so don't miss it!
Introducing the much-talked-about churros and collaboration menu!
Popular world's best churros
The churros exchange ticket you get when you purchase the stamp rally booklet isChurros that Ngo-chan praised as "the best in the world"can be exchanged for
Vouchers can be used at "Pizza La Loja" with a panel of Tasty Churrosungo. I've passed by several times, but the line was always long outside the store.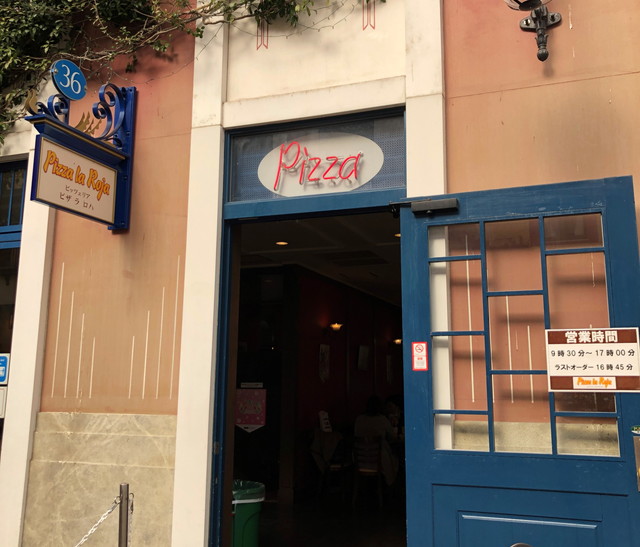 I learned later that 1,000 bottles were sold that day.
In addition to the standard cinnamon and chocolate, you can also choose a spring-only strawberry flavor. I have eaten cinnamon and chocolate before, so I chose strawberry this time.
Strawberry sugar and small frozen strawberries were sprinkled on plain churros, and it had a sweet and sour taste and was quite a favorite seasoning. tasty…
I took a commemorative photo with a panel of Ngo-chan holding churros.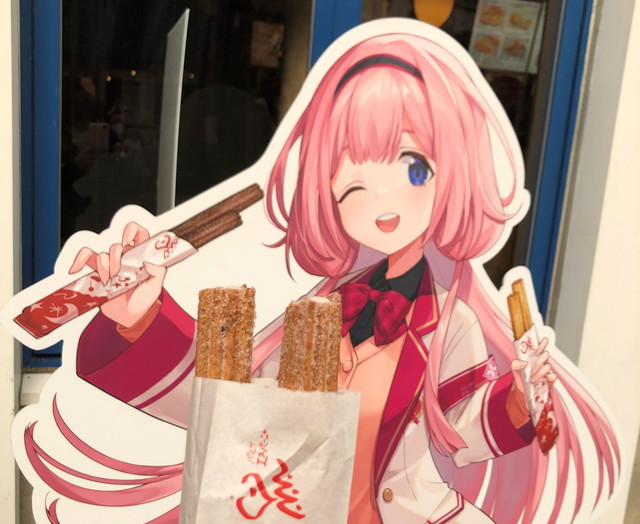 Chuo Coral Tasty Churro Sundae
At the restaurant Amigo in Fiesta Square, one of the collaboration menus, `` Zhou Sango's Tasty Churro Sunday, '' is on sale.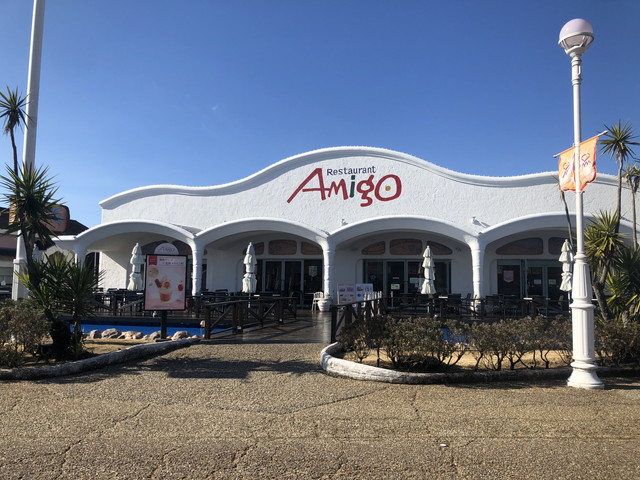 At Amigo, the waiting lines are different for food and fast food, so be careful when lining up! The collaboration menu sales line is on the right side when viewed from the front entrance.
Churro sundae was voluminous and had a response to eating.
The soft serve ice cream was rich, and it was delicious with plenty of strawberries and zagzag waffle cones inside. Personally, I want to eat only this waffle cone endlessly...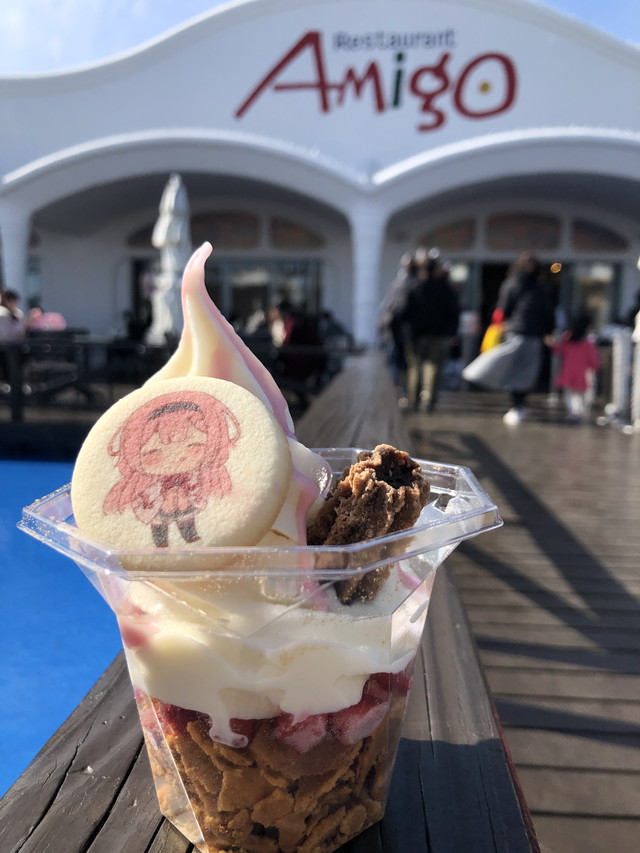 It's nice to eat inside Amigo, but I also recommend eating at Plaza Guell in the center of Plaza Fiesta because of the beautiful scenery.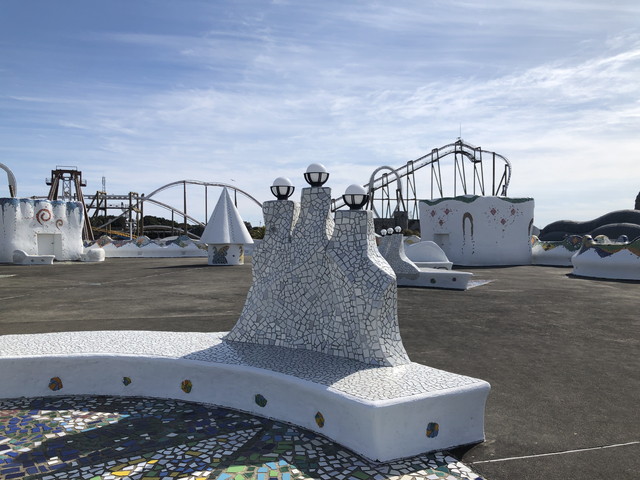 By the way, if you try to buy right after the park opens,Amigo opened at 10:30 and I couldn't buy it, so let's check the opening hours of the store.
Zhou Sango's Plenty of Strawberry Wapple Plate & Sango-chan Latte
Collaborative waffle plates and lattes are served at Cafe Mi Casa in Plaza Mayor.
I've passed by the park several times, and I got the impression that people have been lining up since the park opened, and that it's been increasing over time.
After 12:00, when I counted the lines in the photo of the Plaza Mayor, there were about 20 people lined up.
And here is a picture when I passed by around 14:00 enjoying the collaboration screening, parade, and pizza la loja's churros.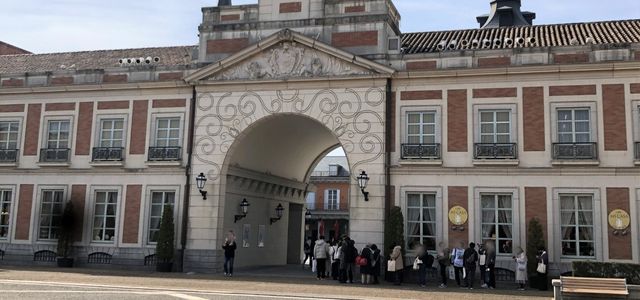 I was surprised to see people lined up even outside the Plaza Mayor. More than 15 people are lined up just in the picture.
I thought I would line up when it was empty, but it seems impossible this time... And when I went there around 15:00, the reception for that day was closed.
Sky-flying Don Quixote seen as Zhouo coral
Victory confirmation BGM "I'm sure Parque España" still flows"Sky Flying Don Quixote"This is a special screening with Ngo-chan's secondary voice added.
When I got there about 10 minutes before the start of the performance, there was a long line in front of the Cambron theater where the movie was shown.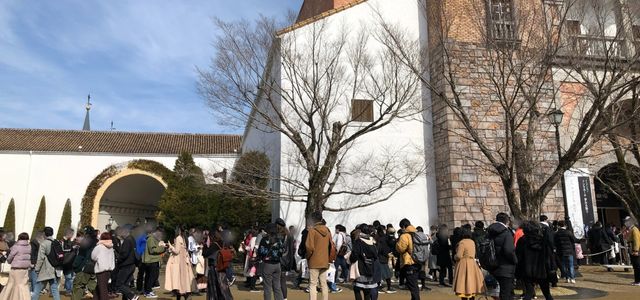 At the entrance, I was surprised to see a large banner with the words "Don Quixote flying in the sky with Zhouo Sango".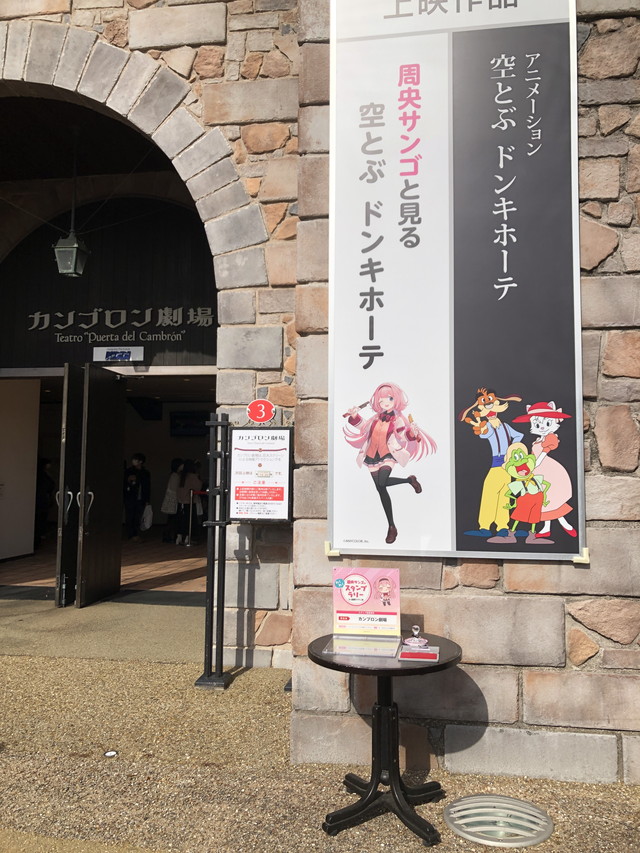 When I entered the Camburon Theater, I was greeted by Ngo-chan's pre-machine and 10 Daru-chango's "Come!" posters. Here we come!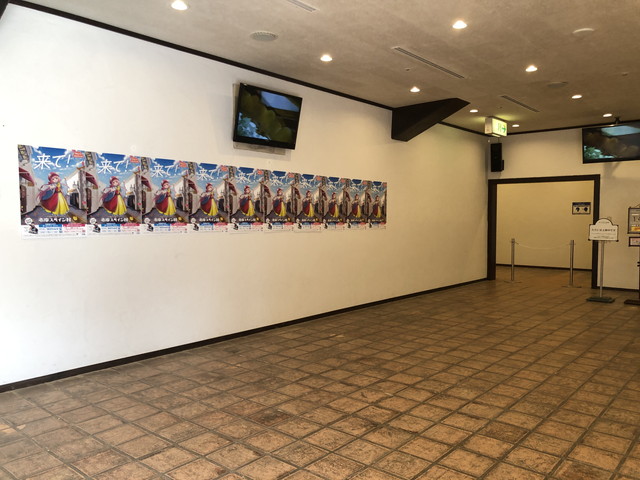 I'm sure there was a small laugh when Parque España was called "Victory BGM" in the announcement before the start of the screening.
And while being surprised by Ngo-chan projected on the big screen of the Camburon Theater, it's time to go to the screening...
I will refrain from commenting on the contents of the sub-audio because it will be a spoiler, but it was fun as I was watching it with Ngo-chan.
It's already been said on social media, but Ngo-chan is talking so energetically that it seemed like the main story was coming in, but there were parts that didn't.
If you have time, I think you can enjoy it more by watching the regular version and then watching the collaboration version.
By the way, it was most interesting that Parque España was played when I was leaving.
There was a light laugh at the moment it flowed, so I think the other people who were there felt the same way.
The episode I saw ended at around 12:40, but as soon as I came out of the Cambron Theater, the parade started and I was excited.

Saito
If you watch the regular version from 11:45 and the collaboration version from 12:20 in order, you can encounter the parade as soon as you leave the theater.
Only available here! Limited collaboration goods
Visit the Svenia shop "Asta La Vista" for limited collaboration goods during the gap between shows and parades!
When I passed past 11:00, there was a long line, so I postponed it, but when I went before 12:00, it was gone.
"Asta La Vista" is the largest shop in Spain Village, and you will see it on your right as you walk past the entrance.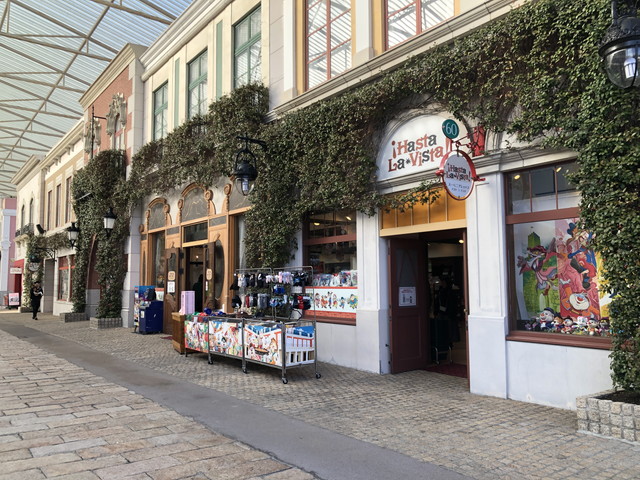 This photo was taken with the entrance facing the front. As soon as I entered the store from the large entrance on the bottom right of the photo, there was a corner for Ngo-chan goods.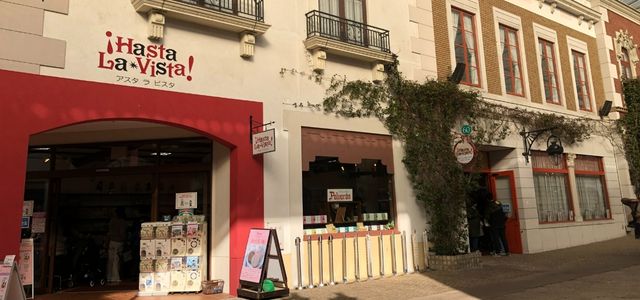 It's amazing to think about the fact that we're only using this corner for Ngo-chan's collaboration goods.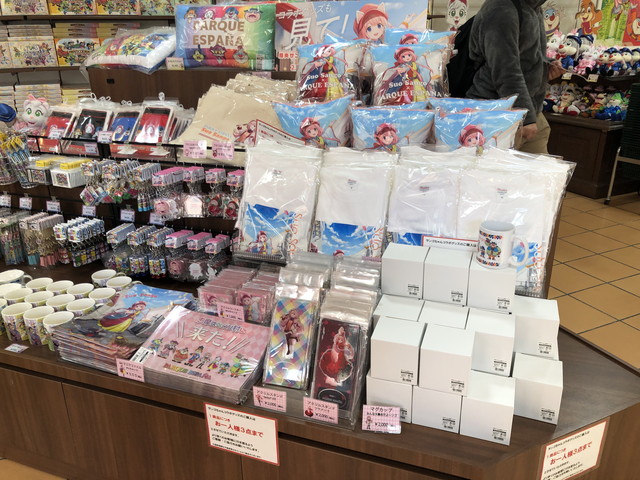 I was looking at it for a while, but I was surprised that the staff replenished the goods as soon as they ran out.
By the way, the photo shows 3 pieces per person, but this limited number seems to change depending on the stock situation.
I was planning to go several times during the collaboration period, so I bought only the acrylic key chain of Budochango, which I wanted the most for the time being.
Various shows at Shima Spain Village
From here, we will introduce the shows that you can enjoy in the Spanish village.
There are various shows in the Spanish village, but what I saw on this day wasCharacter Musical and Espana Paradeare two.
I wanted to see the real flamenco show Regado, but there were so many people lined up that it would take a long time to make a reservation, so I gave up this time.
Patio del Canto ~Dulcinea's Secret Garden~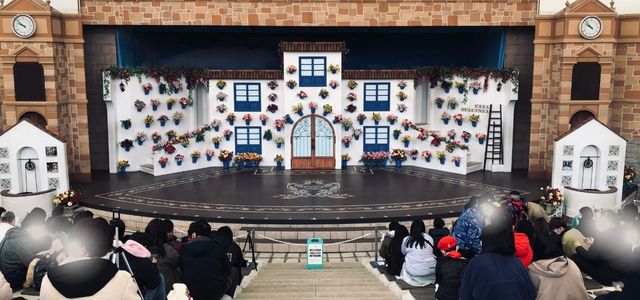 After going through the entrance, go straight through España Street, Plaza de Cibeles, and Plaza Mayor in order, and at the Coliseum, a character musical will be performed.
I had only listened to the song in advance for preparation, but when I actually saw it in front of me, I was immediately drawn into the world of the song.
especiallyThe impact of seeing Daru-chan's "Love in Andalusia" was amazingIt is!
Then, I could see Sancho singing "Sancho's Summer Vacation", which I want to hear on repeat in the summer, while doing the car driving dance that Ngo-chan said.
It was fun to see not only songs and dances, but also various versions of costumes.
I especially like Alejandro wearing a stump hat, Daru wearing a sunflower dress, and Donkey wearing big sunglasses.

Saito
I have other impressions, but it's going to be long, so I'll omit the detailed impressions this time.
Espana Carnival "Adelante"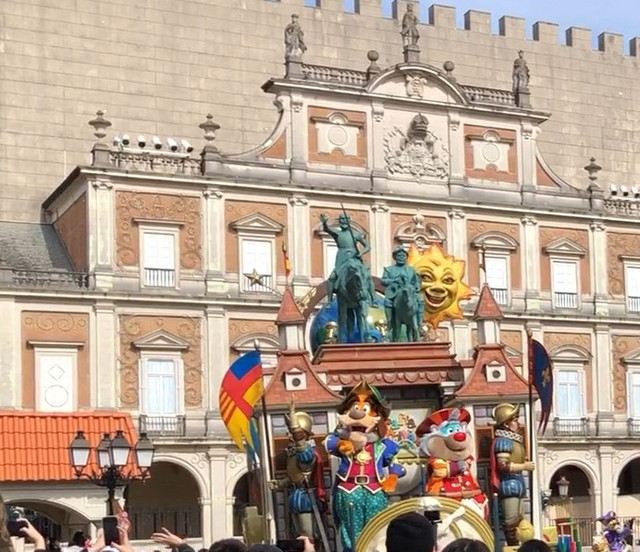 After watching the collaboration version of Don Quixote, when I came out of the Cambron Theater, the entrance to the parade had just started.
Last year, the scale was reduced due to the corona disaster, but it was revived for the first time in two years, and it has become a gorgeous parade with 7 characters, 5 floats, and more than 20 entertainers participating.
This parade has a long travel distance, so you can watch it while moving positions along the way.
MoreoverYou can easily move to a place where you can see the parade from above.That's right.
It's rare to be able to see a single parade from up close and impressive positions and from a position where you can see a wide range from above.I think.
Since the video is enlarged, the image quality is often rough, but we will deliver a scene of the seven characters that were actually filmed that day.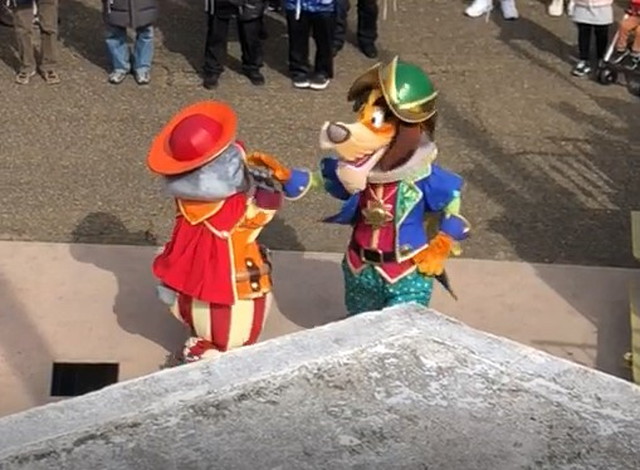 This is Donkey-san and Sancho-san doing a high five taken from above.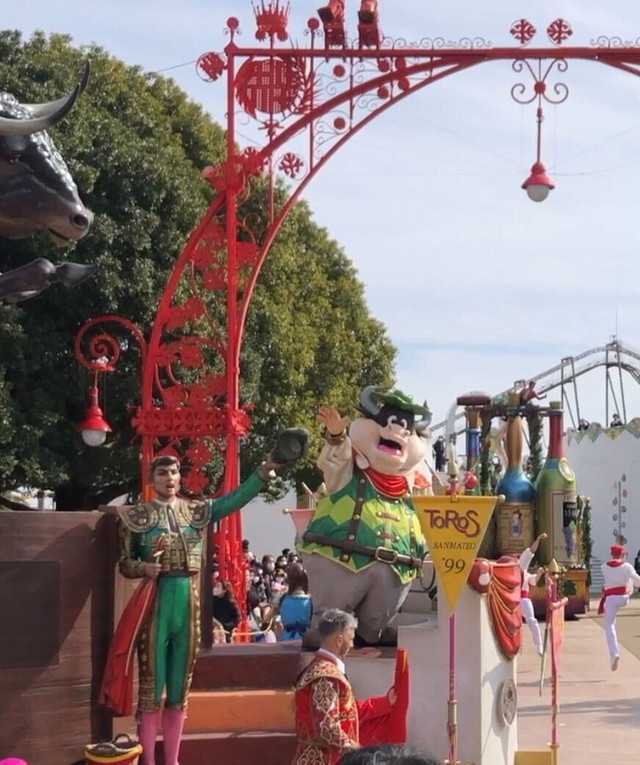 Mr. Toro waves his hand with the gate in the background. By the way, the roller coaster where you can see the rails in the back is "Pyrenees".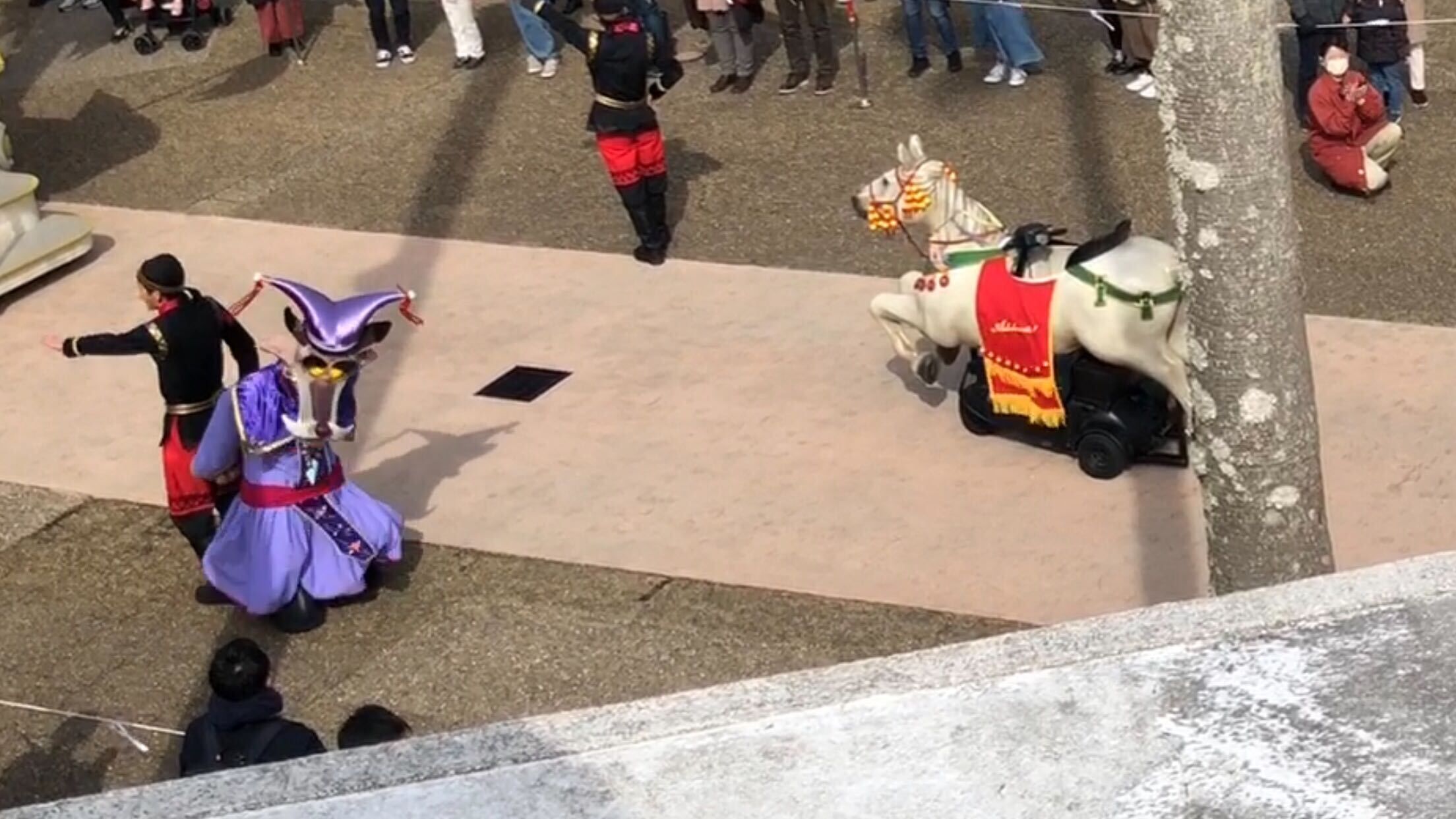 Mr. Alejandro who messes with Mr. Entertainer. Stopping on the right side is the horse that Mr. Alejandro is riding.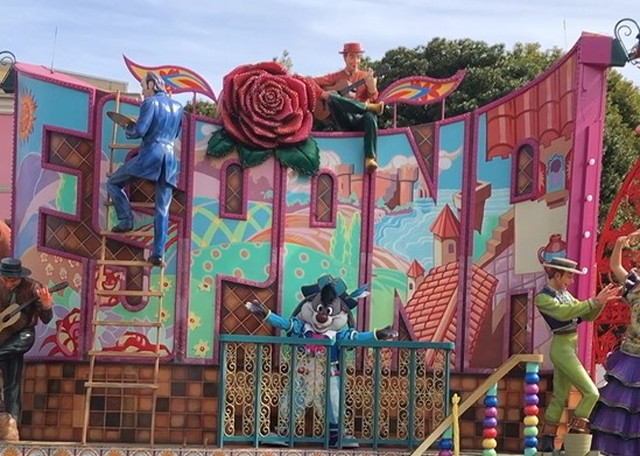 Chocky-san, who decides the pose!

Just as the song ended, Daru-chan came in front of me.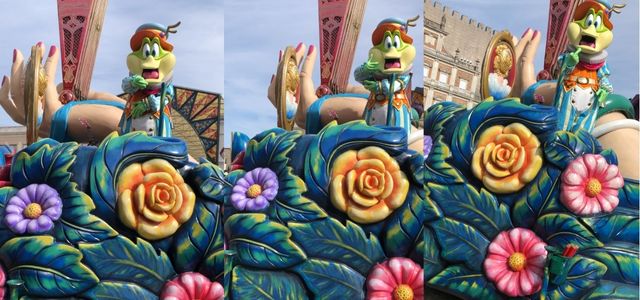 And this is Julio.
The reaction to Alejandro's stuffed toy I had was a happy memory.
You can watch the parade marching in the same place, or follow your favorite characters and entertainers, find your own way to enjoy it!
Important points to enjoy Shima Spain Village
soThings to keep in mind in order to enjoy Shima Spain Village more comfortablyis introduced here.
Be sure to check it out before you go!
About transportation and parking lot
There is a charge for parking in the park. Be prepared to take out the 1,300 yen in cash as soon as possible!
If you come by bus from Ugata Station, pay attention to the time of the last bus!
For example, on days when the park closes at 17:00, the last bus leaves at 17:25.
For more informationMie Kotsu websitePlease refer to the.
About restaurants
The opening and closing times of the park are not the same as the opening and closing (last order) times of restaurants.
especiallyThe last order varies by store, so if you check in advance, you won't miss it when you want to buy churros for the last time.
By the way, I missed the churros because I didn't know the last order time.
It is posted on the door of the shop, so it is recommended to check it locally.
Summary | Hot topic now! I went to Zhou Sango x Shima Spain Village collaboration event!
It's a theme park with so much to offer that you might think, "I can't cover everything in one day!"
Of course there are collaboration events, but Spain Village is so fulfilling that you want at least 3 days to go around the attractions, shows, and parades.
In addition to churros and collaboration foods, there are a wide variety of foods such as paella, and they are all very delicious.
If your stay is limited, make a simple schedule by prioritizing what you want to visit most so that you won't regret it.
It's easy to make a schedule if you focus on parades and shows with fixed times, and use the free time to ride attractions, eat, and shop.
This time, we mainly introduced collaboration events, but there are plenty of other attractive contents in Spain Village! If you are interested, please visit us.
Recommended information on SAs and PAs in Mie Prefecture
A summary of recommendations for SA/PAs in Mie Prefecture, as told by Mie Prefecture residents!

See more.
Oyster special feature
Oyster Special A young engineer with a big appetite tries his hand at all-you-can-eat oysters at Kakiichi, an oyster restaurant!

See more.
Ise/Shima/Toba Recommended Sightseeing Course
Latest in 2022! Recommended Sightseeing Model Course in Ise, Shima, and Toba

See more.