Suddenly, what do you think of when you think of festivals?
The festival is one of the most inspiring of all the festivals, "TheJapanese drumis also a traditional Japanese art form, and is probably one of the most familiar sounds that everyone is familiar with at local festivals and events.
There is a team working to enliven Matsusaka City, Mie Prefecture, with such taiko drumming.
The name.The Japanese drum team "Inaigumi Kibyo Sequence"!
This team was previously featured in a MieL article.
Hibiki-za Inasegumi celebrates its 20th anniversary this year, and in conjunction with this, we will be holding an anniversary commemorative performance.
In San El.To support organizations and people who are active in Mie Prefecture and to help revitalize the community.We are pleased to support and endorse this performance.
In this article, we will introduce what kind of performances will actually take place and what SanEl is cooperating on.

west side of a river
Want to see a local event or taiko performance? If you want to see a local event or taiko performance, or if you just want to make your hometown a better place, please watch this page! Please watch to the end if you want to see a local taiko performance.
What is Hibikiza Inasegumi?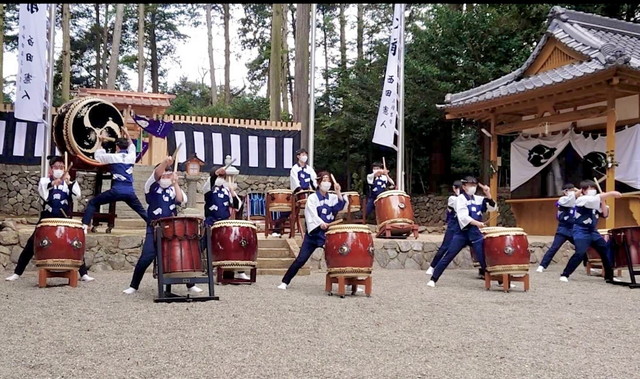 The Hibikiza Inase group is,A taiko drumming team based in Matsusaka City, Mie Prefecture, that also performs outside the city and prefecture.It is.
In 1998, he formed "Hibiki-za" as a troupe that performs unique and creative performances using the traditional Japanese taiko drum.
In 2003, "Inase-gumi" was formed as one of the youth development programs of Kyoza, and now as Kyoza Inase-gumi, there are about 20 members from elementary school students to adults.
They perform taiko performances mainly at events and festivals in their hometown of Matsusaka, but also outside of the prefecture.
If you want to know more about Hibikiza Inasegumi, please refer to our previous article! Please refer to our previous article.
Support for groups active in Mie! Introducing "Wadaiko," a group that carries on Japanese culture, "Kyoza Inasegumi

See more.
About the 20th anniversary performance of Hibiki-za Inase-gumi
Twenty years have passed since the formation of Inasegumi.
For this performance, we want to energize many people with the sound of taiko and the children's energy! We want people to know more about the appeal of taiko!
And,We want to express our gratitude to those who support us on a daily basis... With this in mind, we have decided to hold our 20th anniversary performance.The first time he was asked to do so, he said, "I was told that I was a good person.
Performances are,August 12, 2023 (Sat) Matsuzaka City Kuragi Cultural HallThe event will be held at 6:00 p.m. at
*Until May 31, 2023.crowdfundingThe company has also been challenged by the
Matsumoto-san, a first-year student of Kyoiza Inase-gumi, who is also directing this year's performance, has been sharing the appeal of taiko not only in Japan but also around the world through social networking services.
Instagramand ... andTikTokIn.He has over 800,000 followers and is the number one taiko drummer in Japan...!
With the theme of "From Matsusaka to the World," they are also working to reach as many people as possible through SNS and online distribution for this performance.
We asked Mr. Matsumoto about his efforts leading up to the performance.The children are also involved in non-performing activities such as stage preparation and set-up.He said.
He told us that they are conscious of nurturing the members' ability to think, make judgments, and cooperate in the process, and that they place importance on creating performances together.
*For information on activities leading up to the day of the event, please seeYouTubeYou can view it at

松本仁美さん
We hope that this experience of creating our own music, getting up on stage, and performing in front of an audience will lead to the future of our children. We also hope that as many people as possible will see our performance and become energized.
such (about the actions of the listener, or about ideas expressed or understood by the listener)I share the sentiments of Hibikiza Inasegumi andWe decided to support this performance to help boost the community.
Using IT to support community events
There are three main areas that San-El supports in this performance.
San-El Support
1,Owned media (MieL) and SNS
2, Created a special website for the anniversary performances.
3、Transmission to the whole country and the world through online distribution

Our first priority is to make this performance known to as many people as possible through the use of IT technology.We provide support in a thoughtful manner.
Especially this time, we will be streaming the performance online (live-streaming) on the day of the performance, so we will be able to make the public even more aware of the event.Dedicated Sitecreated.
We plan to create Japanese and English versions of this site to accommodate both domestic and international audiences.
Through this support, we received the following comments from Hibiki-za Inase-gumi.

松本仁美さん
We are very happy that by streaming the show online, we can make it possible for those who cannot be there on the day of the show to see it. Having a special website for the performance makes it easier to advertise the show, which is very helpful.
The members are also happy that they are now able to practice not only domestically but also internationally, which has expanded their horizons and made them happier! We are happy to have your support because it has improved our morale and made our practice more fulfilling.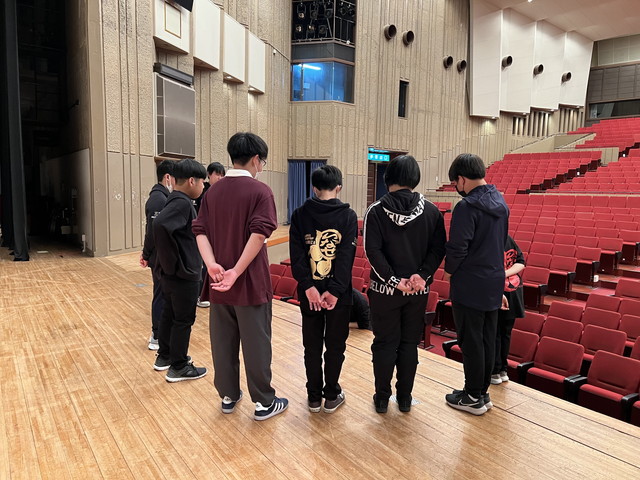 Using modern methods of getting information from smartphones and cell phones to reach a wider audience.
It sounds simple, but it must be difficult for a single group to do it alone.
such (about the actions of the listener, or about ideas expressed or understood by the listener)We would like to use our IT skills to support those areas that are a little out of reach.
Let's make our hometown Matsusaka City more exciting...!
We are looking for people and companies who are willing to cooperate with us for this performance by Hibiki-za Inasegumi.
If you want to be involved in some way for the community, why don't you join us and help make the community a better place to live?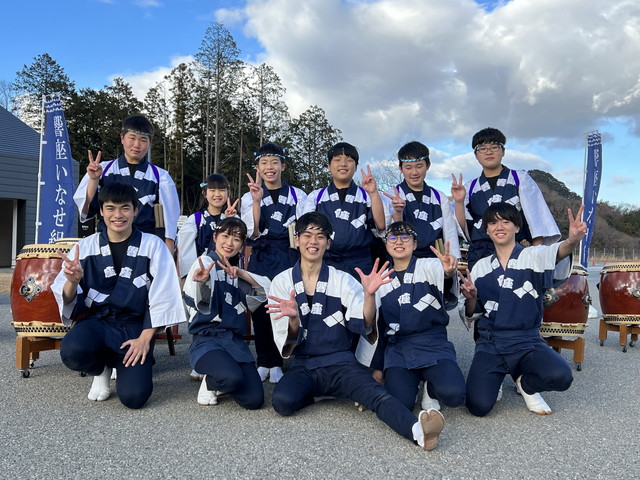 As mentioned at the beginning of this article, "Kyoiza Inasegumi" is also an organization that works as part of Matsusaka City's youth development program.
For companies, cooperation with the event will allow them to talk about aspects of their corporate social responsibility (CSR) in the local community.
The event will also be live-streamed on the day of the event,Expect to be known to people outside of Mie Prefecture.Can be done.
We would like to get together with you! If you are interested in joining us, please contact us,Inaigumi Kibyo SequencePlease contact us at
Summary|Sending taiko from Matsusaka to the world! IT support for the 20th anniversary performance of Hibiki-za Inase-gumi!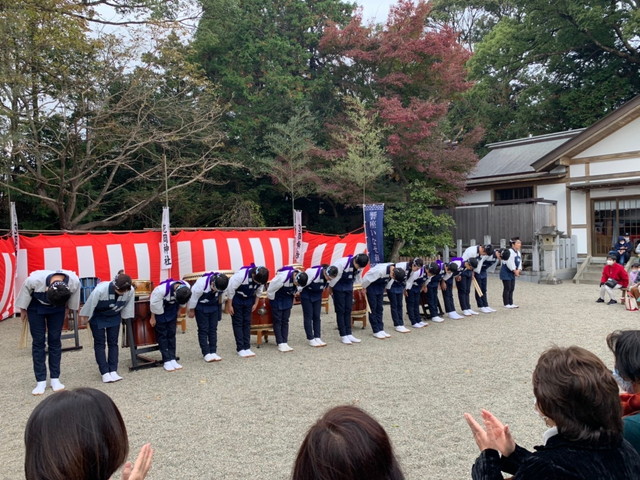 This year, festivals and events have been revived in various areas, and many people will be going out.
This summer,Please come and experience a live performance by Kyoiza Inasegumi, who are active in Matsusaka City!
Tickets for the show will go on sale June 1, 2023.
Until May 31.crowdfundingThey can purchase tickets in advance at
There seem to be other goods and various special offers, so please check it out♪
Sun-El will continue to value human connections and work with local people and organizations to make Mie Prefecture a more vibrant place to live and work!
Outline of the 20th Anniversary Performance of Kyoza Inasegumi
Event Name
Performance commemorating the 20th anniversary of the formation of Hibiki-za Inase-gumi
Date & Time
August 12, 2023 (Saturday) Doors open at 5:00 p.m., Concert begins at 6:00 p.m., approximately 90 minutes (with intermission)
venue
Matsusaka City Kuragi Cultural Hall (690 Kawai-cho, Matsusaka City, Mie Prefecture)
ticket
Normal ticket Adult flat rate 2,000 yen Fixed price
High school students and younger: 1,000 yen flat rate (free admission for infants and toddlers with a parent or guardian on their knees)
Online distribution (to be archived) flat rate 1,500 yen fixed price
inquiry
TEL: 080-5124-4914 (Secretariat)
MaiL: hibiki_20@outlook.com
Official HP
https://inasegumi.com/
Official Instagram
https://www.instagram.com/inasegumi_2003_/
Map of Venue